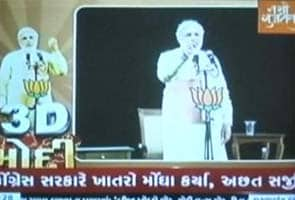 Ahmedabad:
On a Sunday afternoon, in Ghatlodia, a middle class Hindu neighbourhood, friends and family are glued to their TV screens. The most rapt among them are women.
What commands their attention is not a soap opera or a Bollywood bluster, but the man who is seeking a third term as chief minister of Gujarat.
Narendra Modi, who has his own TV channel NAMO, appears to enjoy high ratings here. On screen, dressed in a saffron kurta and red bandhini turban, he lists his achievements before sharing a catalogue of potshots at his rivals in colourful, idiomatic Gujarati.
"He speaks so well and has made Gujarat strong" is the repeated refrain.
In the 2007 assembly elections, women took the lead in voting for Mr Modi and today, in constituencies like Ghatlodia, where the BJP has won continuously since 1978, it's women who are NAMO's most loyal viewers.
The new 24-hour channel, funded by the BJP, was launched to coincide with the state elections and is already being beamed into approximately two crore homes across Gujarat.
"Modi's rivals have launched a fallacious campaign to bring him down so we felt the need for a channel that would project the truth - give voice to the BJP workers and highlight the immense work that the chief minister had done for his homeland," reasons BJP spokesperson Bharat Pandya.
It is not uncommon for the BJP to project Mr Modi as a victim of his own success, eliciting calumny by critics jealous of Gujarat's development and a determination to check the ambition and progress of the entrepreneurial Gujarati.
The channel often uses the emotional tagline of "Gaurav Gujarat" coupled with programmes that often have the word 'vikas' or development in them - 'Vaat Vikas Ni' (Development Talk), for instance, has a huge following. In many of its episodes, you see the chief minister out on the streets, at times picking up a broom to clean garbage, or sitting amidst new mothers telling them what to feed their children.
Mr Modi, renowned as an astute and gripping orator, excels as a television personality. He is on the channel 24x7.
Away from the studios of NAMO, kept out of bounds from those curious like us, in many other sections of the Gujarati media, there seems to be a whisper of change.
After the riots of 2002, in which 1200 people were killed, the Gujarati media was criticised for speaking in one voice - the chief minister's.
The extent of this was apparent when publications in their English editions in Mumbai would condemn the state for not containing the riots, while their Gujarati editions would insist the riots were the result of a spontaneous outburst of justified anger.
"After a decade of horrible insulation, finally in 2012, despite paid news and other such stuff, it has become possible for the media to question Modi. I am not sure how much depth there is in this criticism but now that Modi can be criticised, the space to think of alternatives has only just begun."
When a veteran journalist like Prakash Shah makes this statement, any talk of a change in the Gujarati media has be taken seriously.
In his white kurta-pyjama and thick black-rimmed glasses, Mr Shah is an institution in himself. He's the editor of a historical fortnightly called Nirikshak, or Observer, which reflects a rare tradition of Gujarati intellectualism that has managed to stay afloat. Nirikshak's founding members were men like the great Gujarati writer Uma Shankar Joshi, educationist Purshottam Mavalankar and HM Patel, India's Finance Minister after the Emergency.
"These men were also politicians, came from different political traditions but worked together, surely that's the tradition of vibrant Gujarat we need to remember," points out Mr Shah. Ask him how he keeps the publication alive and he responds with hearty laughter and this: "I feel small publications like Nirikshak or Bhoomika have miniscule circulation but can help lead the debate on alternatives for Gujarat, where development does not have to come at the cost of intellectual growth or social justice. Gandhi, Nehru and Patel worked with some consensus, we need to perhaps revisit that to find some answers, not constantly try to pit them against each other."
Nirikshak may be a radical world apart, but Prakash Shah's observation of a subtle shift in the media is an opinion shared by many on the ground. One reason for this is that a city like Ahmedabad is waking up to many new players in the print media. "When there is competition, reporters are forced to hunt for original stories, which often takes them to different sections of society. Inadvertently, that sometimes leads to a greater representation," argues Alamdar Bukhari, joint editor of Gujarat Today.
At the Gujarat Today office on Shah Alam Road in Ahmedabad, the entrance has an open glass cabinet that prominently displays the awards the newspaper has received, primarily for fostering communal harmony.
"We don't eulogise any leader nor do we go after anyone, which is why I think even the present government has recognised our work. And as a voice for the Muslims we are responsible not to use emotional or religious rhetoric but to stick to agendas of development and political empowerment," says editor Yunus Patel.
Among the election stories of the day, a report on the absence of Muslim candidates in the elections is followed by an editorial by Bukhari on the same theme: "Out of six crore Muslims, the BJP could not find one suitable Muslim candidate and the Congress only eight. I wrote a column asking the BJP some tough questions on how they plan to explain this, given their thrust on Sadhbhavna (communal harmony)."
Just the fact that these tough questions can now be asked and debated, in itself becomes a story in Gujarat.