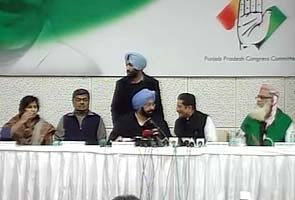 Chandigarh:
The Congress party is promising to eradicate female foeticide and infanticide if it comes to power in Punjab, a state that has a skewed sex ratio.
In its election manifesto released on Sunday, the party says it will give Rs 15,000 to poor families on the birth of a girl child which will be deposited with insurance companies. The girl child will also get annual scholarships and a lump sum amount when she turns 18.
The Congress says it will launch a drive to ensure each girl gets primary education.
The party is also promising to double the shagun amount to Rs 31,000 for the marriage of girls belonging to poor families.
It has vowed to help Punjab regain its glory as the most developed and prosperous state in the country by rejuvenating its agriculture sector and industries. Congress promised to establish the rule of law in the state and create employment opportunities for the youth by reviving industries.
Claiming that Punjab was facing crisis in all spheres, be it agriculture, industry, education or healthcare, the party said it will ensure un-interrupted power supply and equitable development for welfare of marginalised sections of the society.
The manifesto was released in the presence of party General Secretary B K Hariprasad, Secretary Vijay Laxmi Sadho, party's political affairs in-charge Gulchain Singh Charak, state Congress chief Amarinder Singh and Leader of Opposition in the state Assembly Rajinder Kaur Bhattal.
"This manifesto brings forth a blueprint of the regeneration and rejuvenation of Punjab, that we the Congress visualise," Amarinder said.
He also said the institution of Lokayukta will be strengthened and a vigilance commission will be set up. The manifesto mentioned that the party will ensure transparency and accountability in all spheres of the administration and work towards ushering systematic reforms to prevent corruption.
To ensure transparency in public procurement, the party promised to bring a legislation for bringing procurements of various departments under common regulation.
The manifesto said that all villages would be linked to common services centres through cluster scheme to ensure time-bound delivery of identified services affecting day to day life of citizens.
The party promised that it will encourage setting up of small and medium level enterprises by members of SCs by creating a Rs 100 crore venture capital fund.
All marginal farmers and underprivileged sections of the society will be brought under health insurance cover, it said.
Amarinder said the party will ensure the implementation of 'one rank one pension' scheme to benefit eight lakh ex-servicemen of the state. "All ex-servicemen affairs will be directly under the CM and all ex-servicemen and defence personnel will be attended to on priority by state government officials."
The party also promised to provide special revolving fund of Rs 100 crore per annum for agriculture diversification. It said the subsidy to small and medium dairy farmers to set up bio-gas plants at their farms will be increased from present 33 to 50 per cent.
Mohali will be developed as a global city with world class infrastructure to make it the hub of IT and knowledge industry in northern India, the manifesto said.
Congress is the first party in Punjab to release its election manifesto for the upcoming polls.
(With PTI inputs)