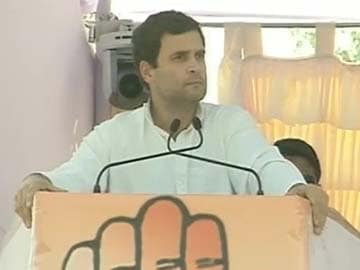 Rajnandgaon, Chhattisgarh:
After Narendra Modi and Sonia Gandhi, it was Rahul Gandhi's turn to campaign in Chhattisgarh today ahead of polls on November 11 and 19.
A day after Mr Modi, the BJP's Prime Ministerial candidate, repeatedly targeted him as 'Shehzada' (prince) in rallies in the state, Rahul Gandhi called the BJP the 'world champions of corruption."
Speaking at a rally in Chief Minister Raman Singh's constituency Rajnandgaon, the Congress vice president slammed BJP government for what he believed was its failure to reduce poverty and Maoist terror.
Referring to a Maoist attack in May that wiped out almost the entire Congress leadership in the state, Mr Gandhi alleged that state leader Nand Kumar Patel was killed because he was going to be Chief Minister.
"Nand Kumar Patel was going to be CM. There were going to be no hurdles. The only way to stop him was kill him. He was your voice. Not just him, but you were killed, your voice was killed," Mr Gandhi said.
"The BJP says that we will fight Naxalism, but when our leaders get killed, then they say it's not a political issue," he added. The Congress is seen to be banking heavily on the sympathy factor to override deep factionalism within the party in Chhattisgarh.
Yesterday, Mr Modi had referred to the killings while contrasting what he called Raman Singh's "empathetic" response to the 'arrogance' of Nitish Kumar after the Patna blasts targeting Mr Modi's rally on October 27.
Mr Gandhi today spent several minutes talking about the policies of his party's government at the Centre, listing the RTI Act and the Land Acquisition Bill among them.
"The state is rich, the people are poor and the BJP claims it is doing well," the 43-year-old Congress leader told the gathering.
Echoing his mother and Congress president Sonia Gandhi's comments at a rally on Thursday, Mr Gandhi said, "Congress does work, these people (BJP) only know how to talk."