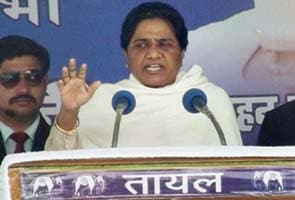 Lucknow:
Before Uttar Pradesh began voting, the veiling of super-size elephant statues planted by Mayawati in memorial parks that honoured Dalit leaders including herself became an international headline. The Election Commission said that because the elephant is her party's symbol, its giant shadow over voters would give Mayawati an unfair advantage.
The return of those elephants to pride of place in her home state is unlikely, say a range of exit polls that predict Mulayam Singh Yadav's Samajwadi Party will emerge with the maximum number of seats in UP. If they are correct, 56-year-old Mayawati's odds of returning as chief minister for a fifth term will ride in the slim-to-none category.
Yet, nobody will write her off. The woman described by former prime minister P V Narasimha Rao "as a miracle of democracy" has said of herself, "In order to end the reign of the modern-day Kans, Mayawati, the incarnation of Krishna will have to come to power." The eclipse of the Congress in Uttar Pradesh, the gradual decline of the BJP's Hindutva appeal, and the Mandalisation of politics carried Mayawati to the frontlines. That last was key. Ever since VP Singh unleashed Mandal two decades ago, caste has been the single, most important electoral factor in UP politics leading to fragmented election verdicts for 16 years. The Bahujan Samaj Party fashioned itself as the one Dalit voice and Mayawati, hand-picked by founder Kanshi Ram, soon proved herself the finest exponent of that caste game.
Between 1993 and 2003, Mayawati served as chief minister thrice through unhappy political marriages with parties including the BJP and the Samajwadi Party. Then, in 2007, she managed to make herself the point of unlikely convergence for Dalits, Brahmins and Muslims. Candidates from votebanks that had been foreign to her were accommodated and promoted. The social engineering worked and she was voted into power with a clear majority, the first clear verdict in a UP election since 1991.
The consistent criticism of her huge multi-crore memorial parks, built with state funds clashes with their target audience - many Dalits say the parks evoke a sense of pride, belonging and belated recognition for leaders over-looked by mainstream parties. Her hold over the Jatavs, UP's most dominant Dalit community, making up nearly 13 percent of the population remains firm.
But even her most loyal supporters find it hard to defend the long to-do list that remains severe and unaddressed in her governance. Poverty, illiteracy, malnutrition, crime are seeded into India's largest state. The dark record is veneered with apparent insensitivity - the mass leader with unquestionable drawing power has refused to curb sycophants, running her state by proxy through favoured bureaucrats and ministers. There have been embarrassing leaks of her penchant for grandeur - caught on camera, her personal security officer polishing her shoe at a public function. WikiLeaks showed US diplomats being told by local journalists that Mayawati once used a plane to bring her a favoured pair of sandals from a Mumbai store.
It's hard to explain her drawing power. The woman, who regularly pulled crowds of 30,000 and above to her rallies, does not ever meet people directly. There are no
janta durbars
where people can bring their problems to her. Letters addressed to her make stops in the offices of many trusted officers. Her security concerns, described often as bordering on paranoia, are well-documented because she makes no attempt to underplay them. She travels from her home in Lucknow to the state assembly on a road that nobody else is allowed to use. She often uses a helicopter to travel to the heart of the city. On the rare occasion that she travels by car, the roads are washed before her entourage arrives.
In her Nero-esque approach to governance, analysts say, she may have alienated aspirations of the people and done some damage to the plank of all-inclusive politics she herself engineered. In the last few days, Mayawati has called a meeting of the Bahujan Samaj Party's top leaders and MLAs to discuss what has been happening on the ground.
And while there are indications that Mayawati's Lucknow dream may just be cut short by her lust for immortality in stone, in a tough four-cornered battle for Uttar Pradesh, Mayawati cannot be written off just yet.