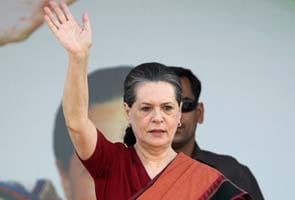 Bangalore/Gulbarga:
Congress President Sonia Gandhi on Thursday charged the BJP Government in Karnataka with having acquired a "dubious" reputation for "unparallelled loot" and corruption.
Capping the party's campaign for the May 5 Assembly polls in which Congress is hoping to return to power after an over eight year gap, Mrs Gandhi also sought details from the BJP Government regarding Rs 88,000 crore given to it for implementing centrally-sponsored development programmes.
"In the last five years UPA government has given Rs 88,000 crore to Karnataka government to implement centrally-sponsored development programmes. This is a huge amount. People have right to ask where this money has gone," she said.
"...the BJP government in Karnataka has acquired a dubious reputation for unparalleled loot and corruption, illegal mining and land grabbing deals", she said, as she undertook the second and final leg of her campaign.
"The BJP has betrayed people's mandate and let them down badly. There has been a complete collapse of administration. This is time for change,"she said.
At a meeting in Gulbarga in northern Karnataka, Mrs Gandhi charged the BJP Government with having "looted" the state and "incited" communal feelings.
The UPA was determined to provide an "accountable government" and accord rights due to Dalits, backward classes and Adivasis and alleviate sufferings of farmers, she said.
"The BJP government has looted the state. It is very shameful," Mrs Gandhi said.
Mrs Gandhi said communal harmony used to prevail in Karnataka but the BJP Government had "incited" communal feelings. "We have always believed in communal harmony and are against forces which disrupt communal harmony," she added.
Asking the people to "think and choose the right government", Sonia Gandhi said they should vote for a party which would provide a strong and stable government.