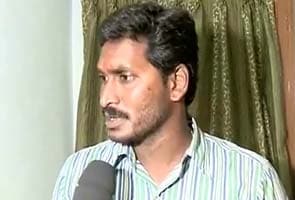 Hyderabad:
Jagan Mohan Reddy continues campaigning in the West Godavari district amid reports that he will be arrested soon by the CBI. The agency is allegedly ready with a second chargesheet against the politician, who founded his own party, the YSR Congress, named after his famous father and former chief minister of Andhra Pradesh.
According to sources, the second chargesheet says that 150 acres of land was given to Aurobindo Pharmaceuticals and Hetero Pharmaceuticals by m/s Andhra Pradesh Industrial Infrastructure Corporation Limited (APIIC) at the Special Economic Zone in Jedcherla. The Price Fixation Committee had fixed the rate at nearly Rs 20 lakh per acre, but BP Acharya, the then Vice Chancellor and Managing Director of APIIC gave land at just Rs 7 lakh per acre.
Here are 10 big developments in the case:

1) First chargesheet by CBI was filed on Saturday. It accuses Jagan and 12 others of criminal conspiracy and cheating. Jagan's vast business empire allegedly saw investments courtesy his father's office as chief minister. Businessmen were allegedly urged to invest in his companies; if they obliged, they were granted licenses or clearances they sought.
2) Jagan's assets last year totalled Rs 365 crores. The inquiry into his wealth was ordered by the Andhra Pradesh High Court. He lost his appeal to the Supreme Court to stop the investigation.
3) He is touring a part of Andhra Pradesh that has traditionally supported his father. 18 Assembly constituencies will vote before the end of May. The by-elections have largely been necessitated by politicians who were loyal to his father defying their parties to support Jagan. Their parties were forced to expel them; some formally joined Jagan's party, the YSR Congress.
4) Jagan's father, YSR Reddy, died in 2009 in a helicopter crash during his second term in office. He was one of the Congress' most charismatic leaders.
5) The chargesheet refers to YSR stating that had he been alive, he would have been tried under the Prevention of Corruption Act for accepting bribes and misusing his office.
6) This is hugely embarrassing for the Congress because YSR was celebrated by the party.
7) Jagan quit the Congress after months of public bickering that ensued when the party did not name him chief minister after his father died.
8) He is travelling surrounded by a huge ring of supporters who will try to stop the CBI from arresting him, or guarantee that the event becomes a drama. This, they hope, will win him sympathy and votes.
9) Sources in the government say they're concerned over whether his arrest could provoke law and order problems, as well as turn public sympathy in his favour.
10) The Supreme Court earlier this month said that six ministers, all from the Congress, and eight bureaucrats from the Indian Administrative Service, should explain their alleged role in a case of corruption against him. These people were allegedly responsible for 26 deals between the government and different companies. The case against Jagan has been constructed on the basis of these agreements.