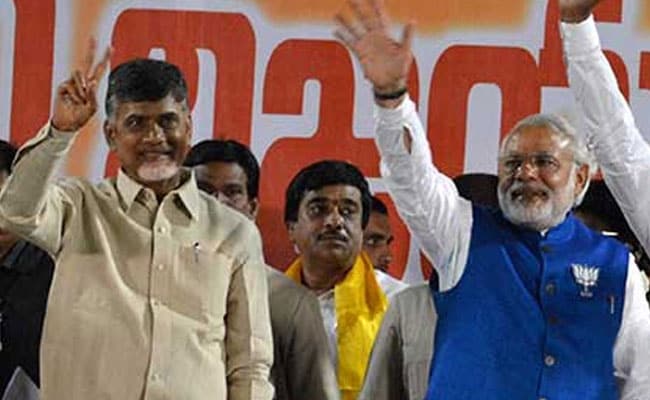 Hyderabad:
Chandrababu Naidu's TDP has decided to pull out its two ministers from the government over the centre's refusal to give Andhra Pradesh central funding under a "special status", sources have told NDTV. Earlier in the day, Mr Naidu said that the Centre has a moral responsibility to fulfil the promises made to his state in the Andhra Pradesh Reorganisation Act by former Prime Minister Manmohan Singh in Parliament.
Targeting Prime Minister Narendra Modi, the TDP chief said: "During the 2014 election campaign, Modi had assured that if voted to power, the BJP would grant special category status to AP for 10 years, as against five years assured by the previous UPA government. Why has he forgotten his promise after becoming Prime Minister?"
Later, Finance Minister Arun Jaitley, in a press conference, said he agreed with the assessment that Andhra Pradesh was financially suffering after Telangana was carved out of the state and his government will honour each and every commitment made by the Centre at the time of bifurcation.
Here are the Highlights of TDP splitting alliance with BJP:
On Andhra Pradesh Chief Minister Chandrababu Naidu's demand for fulfilling the promise of giving the state a special status, Arun Jaitley said such a category did exist when the state was bifurcated in 2014. But after the implementation of the 14th Finance Commission recommendation, such a treatment is now constitutionally restricted to just the North Eastern and three hilly states.