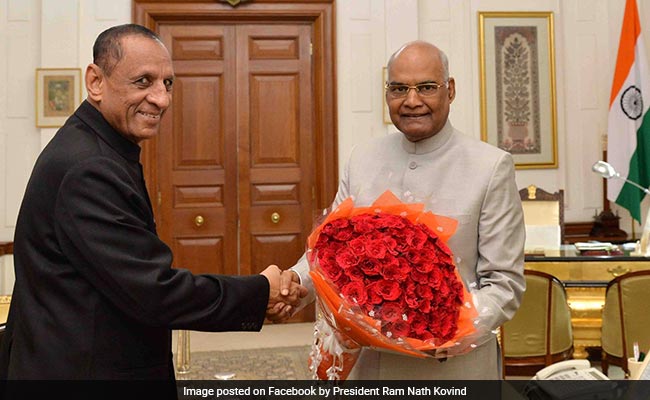 Amravati:
Andhra Pradesh Governor E S L Narasimhan on Monday asked the Centre to expedite resolution of all provisions in the AP Reorganisation Act, 2014, including according special category status to the state.
Addressing a joint sitting of the legislative council and the legislative assembly this morning on the opening day of the state's budget session, he said the state government "would not rest" till its dream of emerging as a power to reckon with in the Asia-Pacific region was realised.
His remarks came in the wake of the ruling Telugu Desam Party (TDP) last month expressing disappointment over the resources allocated in the Union Budget 2018-19 for Andhra Pradesh and asserting that it would continue to fight for the state's due.
The governor said, "As per the AP Reorganisation Act, 2014, and the assurances made, the Government of India (GoI) has to fulfil commitments of the special category status, bridging the resource gap and completion of the Polavaram project with the funds of GoI."
The Centre also has to fulfil promises of formation of a railway zone, establishment of greenfield crude oil refinery and petrochemical complex and financial assistance to Amaravati (the state's new capital city), Mr Narasimhan said.
The Centre has to establish the Duggirajupatnam port, increase seats in the Andhra Pradesh Legislative Assembly, resolve anomalies in taxation matters, construct a steel plant in Kadapa district and establish the Vizag-Chennai industrial corridor, he said.
The governor said the Centre needs to construct Metro rails in Visakhapatnam and Vijayawada, set up rapid rail and road connectivity to Amaravati, apportion Schedule IX and Schedule X institutions and establish a greyhounds training centre.
"My government has made rigorous and untiring efforts during the last three years and nine months to get all the issues listed implemented," he said, adding, "Hence, we reiterate people's demand to expedite the resolution of all provisions incorporated in the AP Reorganisation Act and assurances made in relation to it, including according the special category status," the governor said.
Once a prosperous state, Andhra Pradesh is now faced with a severe drop in per capita income, leading to a decrease of Rs 35,000 compared to other southern states, requiring support of the Union government to the state till a level-playing field is achieved," the governor added.
He said this would be done by expeditiously implementing all provisions and entitlement incorporated in the Reorganisation Act and assurances made on the floor of the Rajya Sabha.
"My government will leave no stone unturned to get them resolved favourably," Mr Narasimhan asserted.