Hyderabad:
Around 3 am on Wednesday morning, the police in Hyderabad swooped down on activists who had planned a protest over unemployment in Telangana, India's newest state. Later in the morning, Chief Minister K Chandrasekhar Rao was seen at a temple in neighbouring Andhra Pradesh, offering an eye-popping array of gold ornaments worth crores to "thank" the Gods.
Mr Rao, aka KCR, had promised to lavish gold on Gods in both states if Telangana became reality. "I have fulfilled my debt...both Telugu speaking states will do very well," he told reporters.
For the Chief Minister's vow, the money came from taxpayers. Ornaments worth 5.59 crores were donated to the gods at Tirumala. The government paid the jewelers' bill for traditional necklaces like the Salagrama haaram and Kanthabharanam. A nose-stud worth Rs 45,000 was gifted to Goddess Padmavati.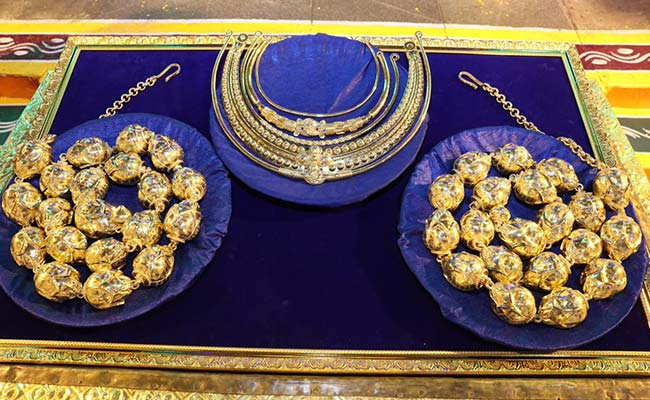 The Chief Minister, his wife, daughter, grandchildren and their families and six sisters travelled by two special aircraft for the thanksgiving trip to the temple town. After arriving at the airport on Tuesday to Vedic chants, the contingent drove to the Balaji temple.
Temple officials commented that no government had ever presented gold ornaments to the lord and that "a new era" has begun with KCR.
Back in Hyderabad, KCR's words contrasted sharply with the early morning police crackdown across the city to prevent a protest against joblessness. Among those taken away by the police was M Kodandaram, who alleges that the police forced open his door even after he promised to come out at 6 am.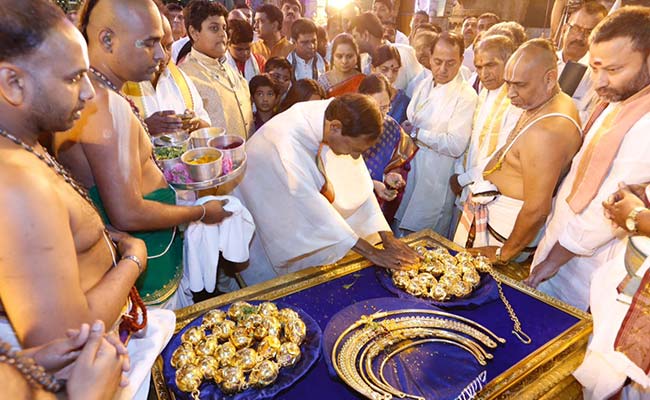 Some 20 other activists were arrested on their way to a rally organized despite police warnings. The purpose of the rally was to demand that KCR's government fulfill one of its main promises - providing one lakh jobs.
In two days, the Chief Minister will make another thanksgiving trip to the Veerabhadraswamy temple in Anantapur. He is expected to gift a solid gold moustache, a nose ring to the Kanakadurga and a crown to the Bhadrakali deities. In October, KCR presented an 11 kg gold crown worth over Rs 3 crore to the Goddess Bhadrakali at Warangal.