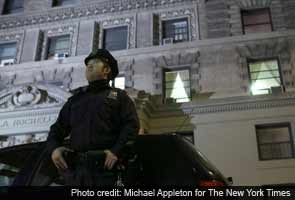 New York:
A mother returned home from work to her luxury Upper West Side apartment on Thursday night to find two of her children, a 2-year-old boy and a 6-year-old girl, fatally stabbed in a bathtub by the family's nanny, the authorities said. The nanny herself lay on the floor, near a bloody knife, with an apparently self-inflicted slash to her own throat.
Police Commissioner Raymond W. Kelly said that the mother, Marina Krim, had left her apartment a block from Central Park at 57 West 75th Street with one of her children, a 3-year-old girl. The two other children were left with the nanny, identified as Yoselyn Ortega, 50.
When Ms. Krim returned around 5:30 p.m., the commissioner said, she found a dark apartment. She went back down to the lobby to ask the doorman if he had seen the nanny and her children. When told that they had not left the building, she returned to the apartment. She turned the lights on in the bathroom and discovered her two children in the bathtub and the nanny unconscious on the floor.
"There were bloodcurdling screams from a woman and man's screaming," said Rima Starr, who lives down the hall from the victims' second-floor apartment. Ms. Starr recognized the man's voice as the building superintendent's. She heard him yelling: "You slit her throat! You slit her throat!"
Ms. Ortega was arrested as soon as the police arrived, according to law enforcement officials. She was taken to NewYork-Presbyterian Hospital/Weill Cornell Medical Center, where she was in critical but stable condition.
The police said Ms. Krim and her husband, Kevin, had three children - Nessie, who is believed to have lived, and Lulu and Leo. Ms. Krim wrote a blog where she documented "life with the little Krim kids" and showed them in photos around New York, eating Gray's Papaya hot dogs, pretending to use a pay phone, napping on the sofa and picking pumpkins.
On the Upper West Side, with its dual-income families in which nannies are often an integral parts of children's lives, pushing strollers or walking their charges by the dozens home from school in the afternoon, the news of the double killing was met with stark disbelief.
"It's family-oriented, this neighborhood," said Pauline Sklar, a real estate investor who lives a block from the building where the children were stabbed. "Parents are working. They have to depend on people. My niece hires people. She researches them."
Ms. Sklar paused, then added, "Or tries to."
Mr. Kelly said that given the horror Ms. Krim had just witnessed, it was difficult for her to communicate. Mr. Krim was told of the situation hours later, when he landed after a flight back to the city. He was met at the airport by the police, who told him what happened and took him to see his wife at St. Luke's Hospital, where the couple remained on Thursday night, along with Ms. Krim's sister.
There were no immediate explanations for what drove the nanny's actions. Paul J. Browne, the Police Department's chief spokesman, said he did not know if she left a note behind, and he could not immediately say how long she had worked for the family.The Krims moved to New York from California in recent years, neighbors said.
A Harvard graduate, according to his LinkedIn profile, Mr. Krim works as an executive at CNBC and had previously worked at Bloomberg and Yahoo.
Ms. Krim had worked in California for a wholesaler of powders made from exotic fruits, like acai berries and pomegranates, according to her LinkedIn profile.
A neighbor said that in New York, Ms. Krim largely devoted her time to her children. This past year she taught a weekly early-childhood art class at the Hippo Playground Parkhouse on 91st Street.
"Marina likes strolls in Central Park, doing art projects with the kids and delicious food," according to a Web site set up for the wedding of one of Ms. Krim's siblings.
In one post on her blog, Ms. Krim talked about how she cherished her time with her youngest, Leo, nicknamed Lito.
"One of the best parts of my day is after I drop both girls off at school and have 3 precious hours with little Lito all to myself. Ok, I'm near getting cheesy I adore this boy so much!!! He's obsessed with collecting acorns he finds 'on the floor,' he loves riding 'the school bus' and he happily plays by himself for long periods of time. Here he has set up his kitchen in the living room and is "making bacon" (not sure where he learned the word 'bacon')."
Ms. Ortega is believed to live on the Upper West Side as well, on Riverside Drive, according to property records. Marcelina Lovera, a neighbor of Ms. Ortega, said that she moved to New York from the Dominican Republic.
"I'm still shocked," Ms. Lovera said. "She seems like a normal person. I wouldn't expect that from her."
Mr. Browne said that when Ms. Krim turned on the bathroom light, she saw her children in the bathtub and the nanny "laying face up on the bathroom floor with stab wounds to the throat area." A kitchen knife was next to her.
"It is believed that she is the assailant," Mr. Browne said. The nanny had yet to be formally charged, he said.
A neighbor, concerned about the screams coming from the second-floor apartment, called 911, he said.
Ms. Starr said that when she saw the children's mother in the building's lobby, she was in a state of shock. "She was screaming in a psychotic state," she said. "She was not lucid."
Neighbors saw the mother, a towel over her head, clinging to her one surviving child, being escorted by the police to a waiting ambulance.
Ms. Starr said she did not know her neighbor well but described a young, loving couple, often seen on neighborhood streets with a big, friendly greyhound named Babar.
She had seen Ms. Ortega in the building, she said, but never got the sense of anything being out of the ordinary.
"I rode in the elevator with the nanny just the day before yesterday," Ms. Starr said. "I was making small talk. She was sort of unfriendly, didn't want to interact. But I didn't notice anything strange or weird."
Reporting was contributed by James Barron, Joseph Goldstein, Kia Gregory, Anemona Hartocollis, William K. Rashbaum and Jack Styczynski.

© 2012, The New York Times News Service