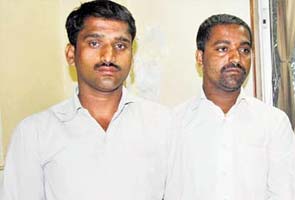 Pune:
Five persons were arrested in two different cases of allegedly forcing young couples to do obscene sexual acts while recording it on mobile phones and later circulating the videos via Multimedia Messaging Services (MMS) and CDs.
In a case registered at Hinjewadi police station, a 19-year-old Shailesh Keshav of Gavarewadi village, was arrested on charges of threatening and forcing a couple to have sex while the act was filmed on a mobile phone. A passing reference of the Hinjewadi IT park in the clip gave the cops an important lead in the investigation of the case.
Police Sub-Inspector Pratap Bhosale filed the complaint in this regard at the Hinjewadi police station. The suspect and his two other unknown accomplices have been charged under section 67 of the Information Technology Act.
According to the investigating officials, the MMS clip was being circulated widely in the city and considering the sensitivity of the case a suo-motto action was initiated.
Upon analysing the clip, it was noticed that it contained a passing reference to the Hinjewadi IT Park. This provided to be a major lead in the investigation and led to the arrest of the suspect.
Madgule and two others spotted a boy and girl sitting at an isolated spot near the Hinjewadi IT Park. The suspects allegedly asked the couple to have sex in the open in front of them. The couple resisted but the suspects threatened them, beat them up and forced them to have sex. The suspects filmed the sexual acts in a cell phone and circulated it through MMS.
Deputy Commissioner of Police (Zone III) Dnyaneshwar Chavan said, "Offences registered under the Information Technology Act are not subject to geographical jurisdictions and hence the case was registered with Hinjewadi Police."
Madgule was arrested after the police team got information from sources about his involvement in the crime. Madgule claims to be a student but this needs to be verified, DCP Chavan said.
The names of his two other accomplices were also revealed and teams have fanned out to nab them.
In another similar incident committed about a year and half ago, the Nigdi police arrested four suspects who threatened and forced couples to have sex while recording it. The suspects then circulated the MMS clip in the city.
Police Inspector Nandkishor Bhosale-Patil of the Nigdi police station said, "The Nigdi incident occurred about one-and-a-half years ago. There's a striking similarity between the Nigdi and Hinjewadi incidents, but they are separate and the suspects are not known to each other."
The suspects arrested in this case are Navnath Pandurang Tele (25), Ramdas Tukaram Vatane (28) both from Maval taluka, Mohan Kisan Kadam (26) from Lonavala and Deepak Vikas Kanse (27) from Satara district.