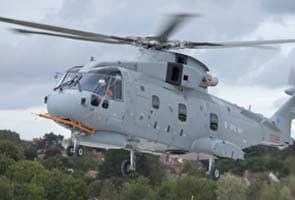 Milan:
After he was arrested for allegedly having bribed Indian officials to land a deal for 12 VVIP helicopters, Giuseppe Orsi resigned on Friday as CEO of Italian defence giant Finmeccanica.
Mr Orsi has denied the allegations of bribery at home and abroad, levelled by Italian prosecutors. His lawyer, Ammodio Ennio, told NDTV that former air force chief SP Tyagi has been wrongly accused by the Italian enquiry of accepting kickbacks from Finmeccanica through his cousins - Julie, Sandeep and Dosca Tyagi.
This claim contravenes the fundamentals of the Italian prosecutors' inquiry, based on interrogations of alleged middlemen and wire-taps.

The lawyer also said that references to "the family" in Italian documents on the case are to the Tyagis. The BJP in India had asked if the allusion was to the Gandhis, which the Congress party had immediately denied.

Mr Orsi's lawyer said that prosecutors in Italy have relied heavily on Guido Haschke who has been interrogated twice about serving as a middleman for Finmeccanica's helicopter division, AgustaWestland (AW).
He has said that he knew the air chief's cousins well and met the former air chief six or seven times. Retired Air Chief Marshall Tyagi has denied the charges.
The lawyer for Mr Orsi said that Mr Haschke's claims of paying the air chief through his cousins were vague. "He talks about making payments to the family Tyagi but does not say how or how much to Shashi Tyagi was made.''
Mr Haschke is based in Switzerland and Italy has asked for his extradition.