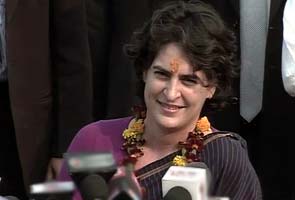 Amethi:
Visiting her brother's constituency for the first time since Congress' defeat in the Assembly elections, Priyanka Gandhi on Thursday assured people that she would visit them regularly and keep in constant touch.
Interestingly, this time round the entire Gandhi family is present in Amethi-Rae Bareli at the same time. While Mr Rahul and Ms Priyanka are visiting Amethi, Congress President Sonia Gandhi is visiting her constituency Rae Bareli.
Ms Priyanka, who arrived here with her brother, attended a meeting at the Rajiv Gandhi charitable trust office in Jais with 150 women, who have recently got training in various trades like candle-making and chikan embroidery.
According to women participants, Ms Priyanka assured them that she would keep coming to Amethi regularly.
She asked us to come out of the house and show a path to others as the role of women has changed and they are no longer confined to kitchen, they said.
The Congress' star campaigner also said that Rahul Gandhi was concerned about their progress.
The participants said that Mr Rahul exhorted them to move ahead as this would take the country and society forward.
After the meeting, Ms Priyanka left for Rae Bareli to join her mother while Rahul confined himself to his constituency.
This is Ms Priyanka's first visit after the Assembly elections when she had stayed in these constituencies for 17 days. Congress had managed to win only two seats in Amethi while in Rae Bareli it had drawn a blank.
In Rae Bareli, Ms Sonia on the second day of her visit met party delegates, workers and local people at the Bheymau guest house since the morning.