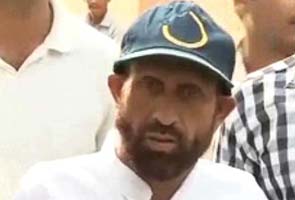 New Delhi:
Is Sayed Liyakat Shah, arrested on Tuesday by the Delhi Police for allegedly planning a terror attack in the capital, innocent?
If so, were the weapons allegedly recovered on Thursday from a non-descript guesthouse in the heart of New Delhi planted? The Delhi Police says that Liyakat was meant to collect the ammunition for a terror strike, but was arrested in Gorakhpur in UP after he crossed into India from Nepal.
But a string of reports from Liyakat's home state of Jammu and Kashmir and the Sanauli Check Post on the Indo-Nepal border throw up an array of unanswered questions.
Sources tell NDTV that Liyakat and Mohammed Ashraf Mir, another Kashmiri who had crossed over to Pakistan in the 90s, were in fact returning to India to avail of a scheme that encourages Kashmiris who hardened militant groups in the 90s across the Line of Control to return to India if they want to give up violence. If a probe reveals they did not participate in any terror attacks or terror-related activities, the state government of Jammu and Kashmir will help resettle them.
After a thorough background check, state government and central intelligences had sanctioned the return of Liyakat and Mir.
Along with their wives and children, they left Pakistan a few weeks ago for Kathmandu in Nepal with Pakistani travel documents.
Since Pakistan tries to prevent such people from approaching the Indian High Commission in Islamabad for help, they are encouraged to reach India via other destinations like Nepal. Over 300 youths who were once persuaded to cross over and join terror groups have come back in the past few years.
Sources told NDTV that Liyakat's family had contacted authorities in Jammu and Kashmir in February 2011 and were assured of assistance because a background check had revealed him to be "clean."
According to senior Home Ministry officials, both Liyakat and Mir reached the Sanauli border on March 19 and reported their arrival to the Sashastra Seema Bal (SSB) that guards the Indo-Nepal Border. Both Liyakat and Mir and their families were taken into custody by the SSB and handed over to the Special Cell of the Delhi Police. This, despite the J&K Police asking Delhi Police to send them home where they could be investigated and kept under observation.
Central security agencies, too, had asked the Delhi Police to allow the men to proceed to J&K.
Speaking to NDTV SN Srivastava, Special Commissioner of the Delhi Police and chief of its intelligence wing, told NDTV that the Delhi Police had been working with the SSB and a "source" in Nepal and had been tracking Liyakat for a while. Mr Srivastava also said that he wasn't aware of Kashmir's surrender policy or that Mir and Shah had been deemed eligible for it.
"We have no information about their families" he said.
Jammu and Kashmir's Minister of State for Home Sajjad Ahmed Kitchloo said his government has taken up Liyakat's arrest with the Delhi Police. "We are waiting for their response," he said.
Liyakat remains in the custody of the Delhi Police. His wife Akhtar and hearing-impaired daughter reached Kupwara today. Police sources say they have reported at Kralpora police station in Kupwara.
Akhtar had told police that they reached Nepal border on March 19 and all of them were detained in a hotel. Next morning, Liyakat's family and another family were allowed to proceed to Kashmir.
The Home Ministry and Srinagar are worried about the fallout of the arrests. The "unwarranted" action of the Delhi Police they feel will severely undermine the surrender policy.