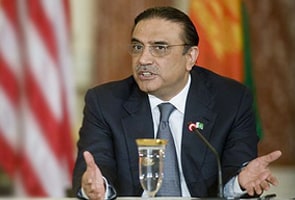 Islamabad:
Pakistani President Asif Ali Zardari gave his formal assent to the 19th Constitutional Amendment Bill which changes the process for appointments in Pakistans superior judiciary and is aimed at resolving differences between the judiciary and the executive.
Zardari described the amendment as "a New Year's gift of democracy" for the country.
In future too, legislation will be enacted through mutual consensus by taking along all political forces with the aim of make the country stronger.
The signing ceremony in Karachi, where Zardari is camping, was attended by Senate Chairman Farooq H Naek, National Assembly Speaker Fehmida Mirza and Raza Rabbani, chairman of the Parliamentary Committee on Constitutional Reforms.
The amendment envisages a new system for appointments in superior courts and aimed at removing a potential source of discord between the judiciary and parliament.
Before the bill was sent to the President for his formal assent, it was unanimously passed by the Senate or upper house of parliament and with a two-thirds majority by the National Assembly or lower house.
Under the amendment, the number of senior judges who will serve as members of the Judicial Commission has been raised to four while the number of members of the parliamentary committee for the appointment of the Chief Election Commissioner has been increased to 12.
The Supreme Court Chief Justice will make recommendations for the appointment of ad hoc judges in superior courts in consultation with the Judicial Commission.
In case the National Assembly is dissolved, members of the parliamentary committee will be chosen from the Senate.
The amendment also provides permission for administrative and financial expenses of the newly set up Islamabad High Court.
It also makes it mandatory for members of bar council to have at least 15 years of experience to be appointed to the Judicial Commission.
Addressing the gathering after signing the bill, Zardari dismissed speculation regarding a clash among the institutions of the state and said certain "political actors" were trying to sell a negative impression to the people.
However, all such efforts were in vain, he said.