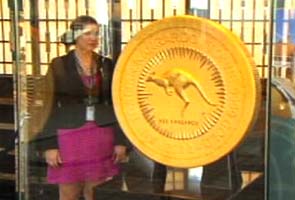 Perth:
Australia's Perth Mint unveiled on Thursday what it says is the world's largest gold bullion coin, weighing more than a tonne and worth Aus$53.5 million (US$55 million).
Embossed on one side with a leaping kangaroo and on the other with the profile of Britain's Queen Elizabeth II, the coin was revealed in time to mark this week's Commonwealth summit to be opened by the monarch.
With a denomination of Aus$1 million, the coin was "the pinnacle of ingenuity and innovation", Perth Mint chief executive Ed Harbuz said.
"To cast and handcraft a coin of this size and weight was an incredible challenge -- one which few other mints would even consider," he added.
The massive coin weighs some 1,012 kilograms and is 99.99 percent pure gold. It is close to 80 centimetres wide and is more than 12 centimetres thick.
It took the historic mint some 18 months to produce the golden disc which will now go on public exhibition.
The Perth Mint opened in 1899 after the discovery of gold in Western Australia and it became the nation's third branch of Britain's Royal Mint. Ownership was transferred to the Western Australian government in 1970.