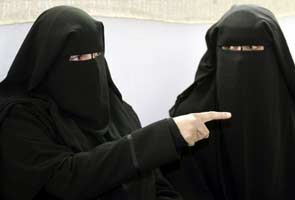 Islamabad:
Islamic clerics today barred women who are not accompanied by a close male relative from entering markets of Karak area in Pakistan's restive northwest.
A committee of 'ulema' or clerics in Karak district of Khyber Pakhtunkhwa province said only women accompanied by a "mehram" or close male relatives like a brother or son would be allowed into markets.
The clerics issued the directive during a meeting held at a mosque in Karak, TV news channels reported. The meeting, chaired by former Jamiat Ulema-e-Islam leader Hafiz Abne Amin, contended that women roaming alone in markets were "spreading vulgarity" in society.
The clerics met the local administration and police and asked them to implement the decision. However, officials refused to facilitate the implementation of the decision. The clerics asked shop-owners not to sell goods to women shopping alone in markets.
Mir Zaqeem, head of the Khattak Ittehad, told the media that the decision was made because "most unaccompanied women were becoming a source of spreading vulgarity, especially in the holy month of Ramzan".
He claimed a group of such women were involved in thefts and robberies.
He further said the presence of unaccompanied women in markets went against Pashtun culture and religious norms.
Women accompanied by male relatives would not be stopped from entering bazars, he said.
Get Breaking news, live coverage, and Latest News from India and around the world on NDTV.com. Catch all the Live TV action on NDTV 24x7 and NDTV India. Like us on Facebook or follow us on Twitter and Instagram for latest news and live news updates.