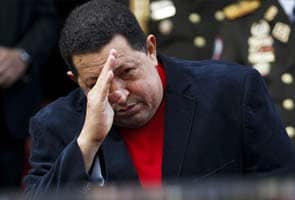 Caracas, Venezuela:
Venezuela called off public New Year's Eve festivities on Monday and social media sizzled with worry after the government said cancer-stricken President Hugo Chavez had taken a turn for the worse.
The streets of Caracas were quiet as frontpage headlines relayed that Chavez had developed "new complications" from a respiratory infection after undergoing his fourth cancer-related surgery on December 11 in Havana.
His vice president and political heir, Nicolas Maduro, broke the news from Havana on Sunday night, saying the condition of the Venezuelan leader was delicate and that he faced an uphill battle.
Chavez, the face of the Latin American left for more than a decade and a firebrand critic of what he calls US imperialism, has been in power since 1999 in Venezuela, an OPEC member that sits on top of the world's largest proven oil reserves.
For many Venezuelans, a holiday season without their ubiquitous comandante just wasn't the same.
"I do not know what will happen to Chavez, but we have never had a Christmas like this. Only God knows what will happen with him and with us," said 70-year-old retiree Miguel Enrique as he prepared to attend Mass.
Authorities canceled a New Year's eve concert in a downtown plaza and Information Minister Ernesto Villegas urged "families in Caracas and Venezuela in general to ring in the New Year at home, praying and expressing hope for the health" of Chavez.
On Twitter, which is extremely popular here, hashtags translating into expressions such as "Chavez will live and conquer" and "I love Chavez" were all the rage.
A person who signed as NeriColmenares described the loquacious former paratrooper in practically messianic terms.
"Chavez will live and will conquer because he is a man who turned into a nation, into spirit, into struggle. He has the power to confront all the torments of life," this person wrote.
But Chavez is also deeply polarizing, even though he has ruled for nearly 14 years, and his detractors spoke out too.
"I do not want Chavez to die. We would look really bad as a country if a disease had to do our job of removing him from power," one Enrique Vasquez wrote.
Chavez, 58, won another six-year term in October's presidential election, and is scheduled to be sworn in on January 10.
But his ill health has raised concerns that he won't be well enough to attend his inauguration.
Under Venezuela's constitution, a presidential election must be held within 30 days if the president is incapacitated or dies before his inauguration or within the first four years of his term.
But Chavez's government has said that the inauguration can be postponed if the president is not fit enough to be sworn in.
Not so, said Veppex, a Miami-based association of 25,000 Venezuelans living outside their country as refugees or political exiles.
It insisted the constitution must be respected verbatim and that new elections must be held within 30 days if Chavez cannot be sworn in on the scheduled day. It said all signs were that he will not be.
Venezuela's most prominent opposition leader, Henrique Capriles, was re-elected earlier this month as governor of the key state of Miranda after providing Chavez with the sternest political test of his 13-year rule.
In the October 7 election, Chavez won 54 percent of the vote compared to 45 percent for Capriles, but some opinion polls had put the candidates in a virtual tie, raising opposition hopes of a long-awaited victory.
In his televised announcement Sunday from Havana, Maduro spoke alongside one of Chavez's daughters, Rosa Virginia, and other prominent Venezuelans.
Hours later Villegas, the information minister, went on TV to deny rumors circulating on social media that Chavez had in fact already died.
"Do you think the daughter could have sat there, so peacefully, during that appearance if that were the case?" the minister asked.