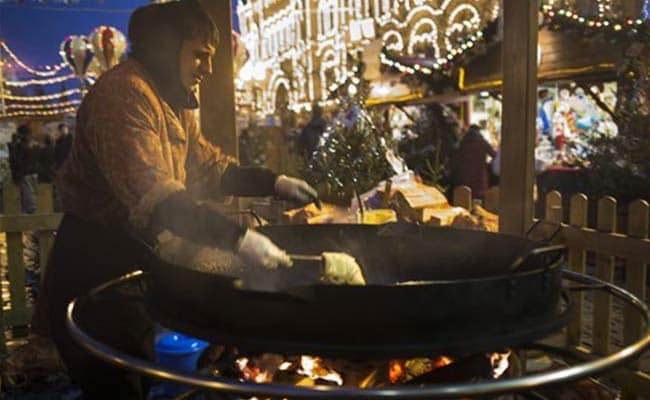 MOSCOW:
It's usually the cold that's bitter in Moscow in December, but this year it's the humour that bites during an unusual warm spell.
As temperatures climbed as high as 7 degrees Celsius (45 degrees Fahrenheit) in the Russian capital in recent days, a joke began circulating on the Internet: This was nature's compensation for Russians being unable to take vacations in Egypt and Turkey this year - two top destinations for Russian winter holidays.
Russia banned all its airlines from flying to Egypt after one of its airliners was bombed there in October, killing all 224 people on board, and Russian charter trips to Turkey were suspended following the November 24 shooting down of a Russian warplane.
The weather is blamed on cyclones in the Atlantic, spreading warmth and rain over most of western Russia.
Although 7 degrees Celsius isn't a heat wave by most standards, it's an unsettling change for a city where temperatures average minus 6 degrees Celsius (21 degrees Fahrenheit) in December and it's broken records set in 1936.
Worse yet, it just seems so un-Russian.
So much so that a top Russian politician found it necessary to promise that a real winter is on the way.
"There necessarily will be snow, I assure you. There will be snow on the 30th," Sergei Naryshkin, speaker of the lower house of the Russian parliament, declared Monday.
"People are telling me this is a European winter, that's good, that's how it's supposed to be. And I tell them 'No, this is not a Russian winter,'" complained Maria Arbuzova, a retiree shopping Tuesday at a holiday market near Moscow's Red Square.
Moscow is a city that chooses to embrace winter rather than endure it.
Good ski trails can be reached on the subway, a ski jump plunges down a hill at the edge of the city centre and outdoor skating rinks dot the city. Gorky Park floods many of its sidewalks to create a maze of skating paths and the VDNKh complex, an extravaganza of Soviet Gothic buildings and fountains, hosts the world's largest refrigerated outdoor rink, a massive 20,000 square meters (about five acres).
Those rinks, and others in the city, have been closed so far this year. A 100-meter (320-foot) ice slide erected near the Kremlin is also out of business, its iceless wooden structure a sad reminder of the fun that's being missed.
"The weather is not making me very happy," said a man dressed as Ded Moroz, the Russian analogue of Santa Claus, who gave his name only as Anton.
But relief may come by the time Ded Moroz makes his gift-giving rounds on New Year's Eve.
Forecasters expect temperatures in Moscow to return to a seasonable below-freezing level on Saturday or Sunday.