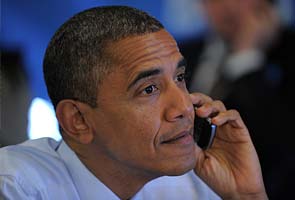 Washington:
The White House has not categorically ruled out the possibility of minting a USD 1 trillion coin if the US Congress fails to raise the debt limit.
"Look, there is no Plan B. There is no backup plan.
There is Congress' responsibility to pay the bills of the United States," the White House Press Secretary Jay Carney told reporters yesterday, when asked if the 14th Amendment gives Barack Obama Administration the power to mint a USD 1 trillion coin.
According to experts, taking the benefit of a loophole in the federal law, the US administration can overcome the problem of debt limit, if the Congress does not increases it.
The Treasury Department - under a loophole in the federal law which was originally designed to allow for manufacture of collectible coins; can hypothetically mint a USD 1 trillion coin, deposit it at the Federal Reserve and continue paying bills even if the USD 16.4 trillion debt ceiling is reached in a few weeks.
"The idea is getting attention from Democrats who argue President Obama should not negotiate spending cuts with Republicans in return for an increase in the debt ceiling," congressional daily 'The Hill' reported.
At his daily news conference, Mr Carney did not altogether deny this option when asked about it.
"You could speculate about a lot of things, but nothing needs to come to these kinds of speculative notions about how to deal with a problem that is easily resolved by Congress doing its job, very simply," he said.
"Then coming back and having the discussion and conversation and negotiation and debate about how we continue to bring down our debt in a way that's responsible, in a way that allows our economy to grow, in a way that protects the middle class, in a way that continues the 54 months of job creation that we've had during this recovery - that's the conversation and the debate and the negotiation that is correct to have.
"That's the conversation and negotiation and debate that the American people expect us to have," he said.
When asked if he believed this was an option and whether it was viable or unviable, Mr Carney said: "I think the only option here is that there is no backup plan. The only option is for Congress to do its job".
The US hit the debt ceiling on December 31.
Treasury Secretary Timothy Geithner told the Congress in a letter that he is using "extraordinary measures" to keep the government from default. But he warned the lawmakers that those measures are likely to run out by mid-February or early March.