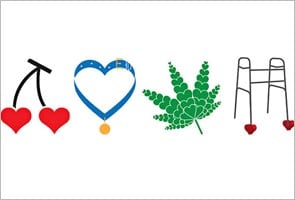 New York:
Whom do you want to date? A bookworm? A beauty queen? A virgin? A vegan? Whatever you're seeking, chances are there's a niche dating site for you. Yes, even you, mustache fetishists.
Singles on major sites like Match.com and Lavalife.com have long been able to narrow their searches for potential matches, based on their preferences for height, weight, smoking habits and other personal details. But in an age when consumers can customize their sneakers, their sweaters, even the writing on their M & Ms, is it any wonder they want even more control when it comes to cyber dating?
A raft of niche sites is offering the granularity they crave. A handful of them, like BlackSingles and JDate, have been around for a few years.
But now that broad-brush dating sites have saturated the market, niche players are growing ever more plentiful and popular, according to major market research firms that monitor the dating industry.
Here's a smattering of what's out there, be it new, intriguing or weird, or all three.
Alikewise.com
You can't judge a book by its cover, but you can tell a lot about a person by looking at his or her books. At least, that's the idea behind this dating site, which went live last summer. On this site, members with screen names befitting bibliophiles -- BookBender, InkSmudge, LostinTheStacks -- peruse lists and images of one another's favorite page-turners. Take, for instance, the 45-year-old man from Los Angeles who relished "Into the Wild" by Jon Krakauer. "I can relate to the wanderlust portrayed in this book," the man wrote on his profile page, "as well as the integration of soul with pristine nature." Members of the site can click on the image of a book to see others who have enjoyed it. They can also receive alerts when a book that they love is mentioned by another member. And a "Literary Missed Connections" feature is in the works, as in: "I saw you reading Gladwell on the C train Thursday night. ..." The hope is that if two people fall for the same tome, they just might fall for each other, too. Subscriptions: free.
Cupidtino.com

"Are you a Mac or a PC?" There is only one answer on this nascent dating site for Apple product enthusiasts. The site's founders contend that Apple fans tend to have creative professions, a similar sense of style and an appetite for technology. As they put it, "We believe these are enough fundamental reasons for two people to meet and fall in love." To join the site -- which echoes the clandestine minimalism of Apple advertisements but is not affiliated with the company -- you must own a Mac. Members (known as Machearts) can then share their favorite apps, music and movies, and swap stories about the moment they first laid eyes on ... an Apple device. Subscriptions: $4.79 a month.
WeWaited.com

Not every dating site is like OnlineBootyCall.com, where members adhere to "Booty Call Commandments" like "thou shalt get out before the sun rises" and "if someone cometh over whilst thou art here, thou art my cousin from out of town." Rather, there are dating sites like WeWaited.com, for virgins seeking other virgins. Don't get any ideas: the site says it conducts background checks on would-be members to ensure they're virgins. Now, there is only one way to confirm that -- and it doesn't involve a database. Even so, the site's founders, Leticia and Jose Colin, explain on their Web page that the screenings performed on prospective users reveal whether they have lied about their personal history (are they married or have they ever been arrested?). If that's the case, the assumption is that the candidates have not been truthful about their virginity either. Subscriptions: $5 a month; $29.95 a year.
DateHarvardSq.com

When this site -- the brainchild of two Harvard Business School graduates, Beri Meric and Philipp Triebel -- went live a few months ago, it appeared to be a highbrow take on the likes of SugarDaddie.com. Heterosexual women who did not graduate from Harvard could pay to date men who had. Yet the site, which is not associated with the university, has since begun allowing other singles -- Harvard women, gay men, lesbians -- to join. Each week Harvard singles receive a mix of potential matches including other Harvard singles as well as well as "interested singles," a k a everyone else. "Interested singles" receive only Harvard matches. (There are no publicly searchable profiles on the site.) Members can then pick the matches, if any, they care to study further. Subscriptions: free for Harvard students and alumni; $19.99 to $39.99 for others. (The site's founders are also creating IvyDate.com, for other universities.)
BeautifulPeople.com

This dating pool for the genetically blessed came under fire when it ousted some 5,000 members for packing on the pounds during Christmastime. The site has a "strict ban on ugly people," and issued a news release this month saying the cuts were made after many members posted photographs of themselves looking plump in the weeks after Thanksgiving. "Letting fatties roam the site is a direct threat to our business model," the site's founder, Robert Hintze, said in a statement. If you can resist eggnog and want to apply for membership, you can submit photos, which will be voted on by existing members. Subscriptions: $25 a month.
DateMyPet.com

Members of this dating site enjoy long walks and cuddling -- with their cats and dogs. Singles post photos and essays about not only themselves, but also their puppies, rabbits, horses, birds, fish and other dependents. A 31-year-old woman from Springfield, N.J., channeled her 5-year-old Bichon mix, writing: "I can be selfish and dominant, just don't go near my food." There is an area for members to describe their pet's "ideal date," and a "pet heaven" section enables members to tell prospective dates about their deceased Spots and Fidos. Subscriptions: $6.66 to $14.95 a month.
SeniorPeopleMeet.com

This dating site for the A.A.R.P. set is aimed at one of the fastest growing demographics in online dating. The number of seniors using the Internet in general increased to 17.5 million in November 2009, up from 11.3 million users in November 2004, according to Nielsen Media. And the Pew Research Center has noted that the biggest increase in Internet use since 2005 is from people ages 70 to 75. Dating sites for elderly people essentially resemble other singles sites, though members typically post fewer lingerie shots. Subscriptions: $13.95 to $19.95 a month.
420Dating.com

The words "Why Toke Alone?" are emblazoned above a woman in leafy green lingerie on the home page of this dating site, named for a code for marijuana (it supposedly originated in the 1970s when groups of teenagers gathered at 4:20 p.m. to smoke). A disclaimer notes that while the site is "smoker friendly," it "does not advocate the use of illegal substances." The same cannot be said of its members. One of the tamer entries is from a 54-year-old woman who employed a stream-of-consciousness style on her profile page: "older hippie chick missin' the '60s empty nester needing to get back where I belong. Veggie growin' and smokin' energetic loves outdoors." Subscriptions: $9.95 a month for a year.
VeggieDate.org

Dating sites for vegetarians abound. To name a few:
• VeggieConnection.com
• VeggieRomance.com
• VeggieFishing.com
• SingleVegetarians.com
• Vegetarian-Dating.net
• VegConnect.com
VeggieDate.org is one of the oldest, and its members' diets run the gamut from vegan to "almost veg." Subscriptions: $9.95 for three months; $19.95 for one year; $69.95 for lifetime membership. (Note to singles seeking long-term love: it is not advisable to pursue people who buy lifetime memberships to dating sites.)
DemocratSingles.com and ConservativeDates.com

These sites are for singles looking for love along party lines. Look more closely, however, and you'll see that almost all of the same blithe models are pictured on the home pages of both the liberal and conservative Web sites. How's that for bipartisanship? Subscriptions: $19.95 for a month; $44.95 for three months.