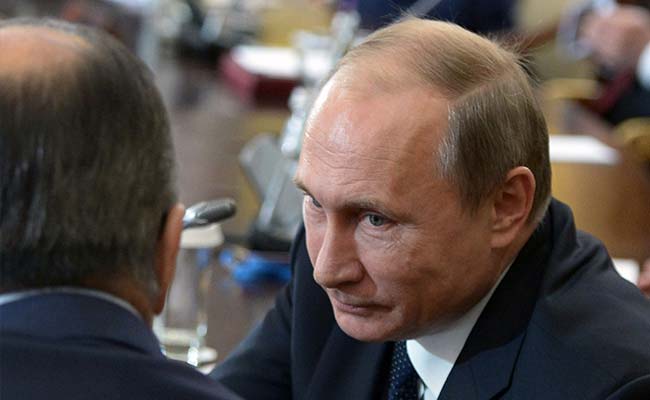 Astana, Kazakhstan:
Russian President Vladimir Putin today warned that violence in Afghanistan could spill over into ex-Soviet Central Asia, a day after the US announced it would keep thousands of troops in the conflict-wracked country.
"The situation there (in Afghanistan) is genuinely close to critical," Putin said at a meeting of leaders from the ex-Soviet region in Kazakhstan.
"Terrorists of different stripes are gaining more influence and do not hide their plans for further expansion," Putin told the summit of the Commonwealth of Independent States (CIS).
"One of their aims is to break into the Central Asian region. It is important for us to be ready to react in concert to this scenario," Putin said in a speech posted on the Kremlin's website.
US President Barack Obama on Thursday said American troops would remain in Afghanistan past 2016, retreating from a major campaign pledge as he admitted Afghan forces were not ready to stand alone against the resurgent Taliban.
Russia has military bases in the ex-Soviet nations of Kyrgyzstan and Tajikistan and with local militaries ill-equipped many in the region look to Moscow to shore up the region's vulnerable southern frontier with Afghanistan.
While Russia is warily eyeing the upsurge in fighting in Afghanistan, its main focus remains on Syria, where it is carrying out a bombing campaign to support Syrian President Bashar al-Assad.
Putin praised the more than two-week-old air campaign, saying that Russia's strikes had "destroyed dozens of command posts, munitions depots, hundreds of terrorists and a large amount of military hardware".
Russia, he insisted, was only targeting "terrorists" in Syria and there was "a time limit" on the air campaign linked to a ground offensive by Assad's forces.
He added that "according to various estimates" there were between 5,000 to 7,000 people from Russia and the former Soviet countries of the CIS fighting with IS.
The US and its allies in a coalition targeting Islamic State jihadists have slammed Moscow's intervention in Syria and say Russia is hitting moderate groups battling Assad.
Putin has dismissed the criticism and accused Washington of refusing to coordinate with Russia over the bombing campaign.
On Friday he sounded a more conciliatory tone, saying Russia was in a "negotiation process" with regional powers including Saudi Arabia and the United Arab Emirates and "was making attempts to build cooperation with the United States and Turkey".