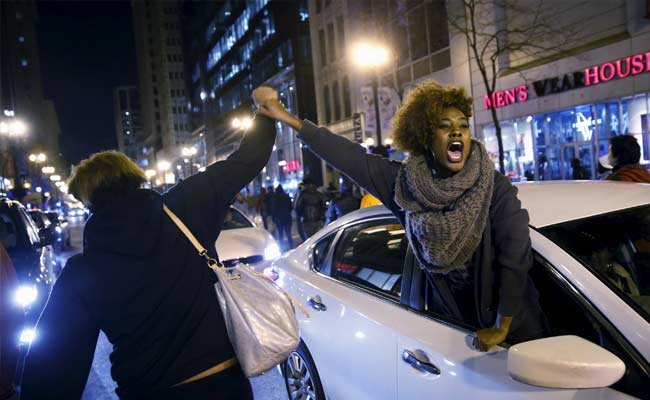 Angry protesters spilled onto Chicago's streets last night after police released a video of a black teen shot 16 times by a white police officer.
The video that was released yesterday, more than a year after the incident, has gone viral and is disturbing.
The video shows the teenager, Laquan McDonald walking in the middle of a two-way street away from the police officers and even though he was allegedly carrying a small 3 inch closed knife, he does not appear to be posing any threat to the police officer, Van Dyke, who keeps shooting at him even when the 17-year-old is lying motionless on the ground.
The police officer has been charged with first degree murder, the first for Chicago in nearly 35 years.
(Disclaimer: Content in this video could be disturbing for viewers)
Anita Alvarez, State Attorney said, "Chicago police investigators later recovered 16 fired cartridge cases from the scene and the Illinois state police determined that all of those cartridge cases had been fired from officer Van Dyke's weapon. Our investigation has determined that officer Van Dyke was on the scene for less than 30 seconds before he started shooting."
Chicago's mayor, Rahm Emanuel, once President Barack Obama's Chief of Staff will face questions on why the video was kept from the public for more than a year, and on reports of the police paying the teen's family 5 million dollars as a settlement.
"We hold our police officers to a high standard and obviously in this case, Jason Van Dyke violated both the standards of professionalism that comes with being a police officer, but also basic moral standards that bind our community together. Jason Van Dyke will be judged in the court of law," Mr. Emanuel said.
The Chicago Police Superintendent, Garry McCarthy said, "The officer in this case took a young man's life and he's going to have to account for his actions." But Mr. McCarthy urged protesters to remain calm, saying, "What I expect is the same thing that we talk about frequently, which is the fact that people have a right to be angry, people have a right to protest, people have a right to free speech, but they do not have a right to commit criminal acts."
Racial tensions, spurred by police brutality against young black men, have surged in the US since violence erupted over the police shooting of an unarmed black teen in Ferguson, Missouri last year. So far this year more than a dozen officers have been charged with murder or manslaughter, a sharp spike from an average of five per year over the past decade.
The reasons around race are understandably complex, and include a backlash to Mr. Obama's presidency, a first for an African American and economic struggles among lower income whites. But experts say the coverage is mostly driven by the increasing use of smartphones and social media that has brought both the actual incident and its resulting outrage to light, giving recognition to an issue that was always hidden in America's past.