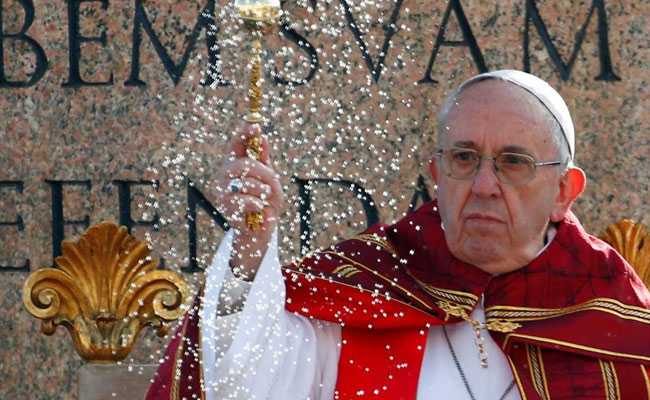 The Vatican denied Thursday an Italian journalist's report in which he says Pope Francis told him "hell does not exist, the disappearance of sinful souls exists." The Vatican press office says that although the pope met with La Repubblica co-founder Eugenio Scalfari, Francis did not give an interview to him, said Thomas Rosica, an English-language spokesman for the Vatican.
It's not the first time that Scalfari, who has said he is an atheist, has made claims about the pope's views, but the reference to the pope's views on hell spread on social media during Holy Week.
The Vatican released a statement calling the article by Scalfari "the fruit of his reconstruction," Rosica said.
Scalfari's interview, published Thursday, quoted the pope as saying during a meeting that while the souls of repentant sinners "receive the forgiveness of God and go among the line of souls who contemplate him, the souls of those who are unrepentant, and thus cannot be forgiven, disappear."
According to the National Catholic Reporter, the statement from the Vatican said that the pope and Scalfari had a "private meeting" with an Easter greeting but not an interview. The Catholic News Agency noted that it was their fifth meeting.
"No quotes of the aforementioned article should therefore be considered as a faithful transcription of the Holy Father's words," the statement said.
The Catechism of the Catholic Church says, "The teaching of the Church affirms the existence of hell and its eternity. Immediately after death the souls of those who die in a state of mortal sin descend into hell, where they suffer the punishments of hell, 'eternal fire.' The chief punishment of hell is eternal separation from God, in whom alone man can possess the life and happiness for which he was created and for which he longs."
Meanwhile, the pope's Holy Thursday included a visit to the Regina Coeli prison in which he told inmates that he plans to have eye surgery next year, according to an Associated Press report. He washed the feet of 12 inmates at the prison, then wiped them and kissed them as part of the Holy Week ritual that he started when he was archbishop of Buenos Aires, according to the Vatican.
"At my age, for example, cataracts come, and you don't see [really] well. Next year I have to have an operation," he said during the visit, according to the AP. Pope Francis, 81, also told the inmates to conduct their own "cataract surgery for the soul."
Pope Francis' schedule for Easter weekend includes the Way of the Cross procession on Good Friday at the Colosseum in Rome, a Holy Saturday Easter vigil and Easter Sunday Mass at St. Peter's Basilica. Meanwhile, the AP also reported that part of St. Peter's Basilica was sealed off after plaster fell off Thursday near the Pieta statue by Michelangelo.
(This story has not been edited by NDTV staff and is auto-generated from a syndicated feed.)