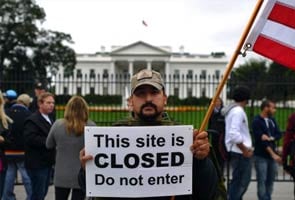 Washington:
House Republican leaders struggled on Tuesday to craft a new proposal to reopen the government and change the president's health care law, after a plan presented behind closed doors to the Republican rank-and-file failed to attract enough support immediately to pass.
After more than two hours, Republican leaders backed off the plan that had emerged Tuesday. Speaker John A. Boehner told reporters that there were "no decisions about what exactly we will do."
"We're trying to find a way forward in a bipartisan way that would continue to provide fairness to the American people under Obamacare," Boehner said, but he also acknowledged that "there are a lot of opinions" among his fractious members.
The apparent disarray left Boehner with a crucial decision to make as time ticked down toward a possible default on government obligations on Thursday. Does he accept whatever bipartisan plan emerges from the Senate, most likely on Tuesday, or does he continue to try to get House Republicans in line behind a counterproposal that, as of yet, does not exist?
Rep. Kevin McCarthy of California, the House majority whip, said Republican leaders were "very cognizant of the calendar."
Rep. Adam Kinzinger, R-Ill., said that if House Republicans could not rally behind the proposal that their leadership rolled out Tuesday, they would most likely be forced to accept the plan taking shape in the Senate - something many Republican House members have already said is unacceptable.
"If our party can't pass this, then there's no doubt we're going to end up with what the Senate sends us," Kinzinger said. "Look, if my colleagues can't muster together and sometimes accept good because they're waiting for perfect, then that's on them."
But House Republicans appear intent to extract at least one concession: depriving members of Congress, the president, the vice president and White House political appointees of government contributions when they purchase health insurance under the law's new exchanges. Rep. Eric Cantor of Virginia, the majority leader, said any proposal must reflect what he called "our position on fairness" - "no special treatment under the law."
Those words have become code for legislative language that denies employer contributions to politicians forced into the exchanges by a clause in the original health care law.
In the Senate, Republicans prepared to meet at lunch Tuesday to hear from their leadership about a potential deal with Democrats that could reopen the government and lift the threat of an American default. President Barack Obama will meet with members of the House Democratic leadership on Tuesday.
Sen. Mitch McConnell of Kentucky, the Republican leader, will try to sell his colleagues on the Senate proposal during an early meeting of the Senate Republican conference. McConnell reached the agreement on Monday evening with Sen. Harry Reid of Nevada, the Democratic leader; Reid also plans to discuss the arrangement at a Democratic caucus meeting on Tuesday.
The deal would reopen the government until Jan. 15 and raise the debt limit until Feb. 7. In addition, lawmakers would agree to conclude negotiations on a longer-term budget by the middle of December.
House Republicans were extremely unhappy with the Senate plan.
"We've got a name for it in the House: it's called the Senate surrender caucus," said Rep. Tim Huelskamp, R-Kan. "Anybody who would vote for that in the House as Republican would virtually guarantee a primary challenger."
© 2013, The New York Times News Service