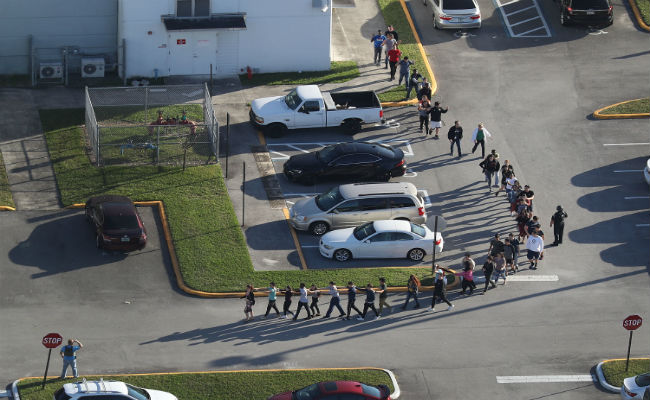 Washington:
Two weeks after 17 people were shot dead at a Florida high school, the United States is taking small steps to rein in guns.
President Donald Trump made a push for legislation in a White House summit with leading members of Congress on Wednesday.
"As we continue to mourn the loss of so many precious young lives in Parkland, Florida, we're determined to turn our grief into action. I really believe that," Trump said.
But prospects for a tough crackdown are low. The National Rifle Association remains a powerful lobby against any controls. Out of 360 pieces of gun legislation proposed since 2013, only one became law -- a minor shift regarding police that had no effect on limiting firearms, according to Axios.
Here is where the effort for gun control stands:Background checks
Trump has offered strong support legislation for a better-managed national information system, linking state and federal databases, to prevent criminals, people with mental illness and others from getting around gun laws to purchase weapons.
Yet that would only affect sales by licensed gun dealers. Sales by private gun dealers at gun shows, and many online sales, do not require background checks.
The NRA strongly opposes closing the "gun show loophole." During Wednesday's meeting, Trump was non-committal on the issue, saying "We could work on that."
But on Thursday, Democratic Representative Mike Thompson announced he had the backing of 200 members of the House of Representatives, including 11 Republicans, for a law that would both fix the national database problem and the gun show/internet sales loophole. That left him just 18 votes short of a majority in the House.
Assault rifle ban
The shooter in Florida, and those in many other mass shootings, used high-powered, semi-automatic assault rifles originally designed as weapons of war.
Polls show a majority of the public wants a ban, but there are millions already in personal gun collections around the country.
Gun rights advocates are adamantly opposed. Democrats in Congress have introduced two proposals to ban them, but have gained no support from Republicans, who control the legislature. "We'll take a look at it," Trump said ambiguously Wednesday.
Age limit for gun purchases
The federal government says licensed firearms deals cannot sell a handgun to anyone under 21 and a rifle or long gun to anyone under 18. Someone without a deal licenses can sell a handgun to someone 18 or older and a long gun to a person of any age. Some states set their own limits that are slightly tighter than federal laws.
Arming teachers
Trump has endorsed training and arming 20 percent of teachers and ending "gun free zones" around schools and elsewhere.
"Highly trained, gun adept, teachers/coaches would solve the problem instantly, before police arrive," Trump said of school shootings. "We must harden our schools against attack."
The National Rifle Association, the powerful gun rights lobby, has endorsed the idea.
But teachers and many communities largely reject this approach, and Congress is unlikely to legislate it. The decision is one for states and localities, most of which are opposed. There was no specific discussions Wednesday of arming teachers.
Bump stocks
Stephen Paddock, the man who killed 58 people at a country music concert in Las Vegas on October 1, made use of bump stocks, cheap assault rifle attachments that make them function like automatic weapons.
After that massacre, no firm action was taken to ban them by the federal government or Congress. Trump said he will soon take executive action to make them illegal. A bill banning them was introduced in the Senate on Thursday.
Corporate action on sales
Three large US retailers -- Walmart, Kroger and Dick's Sporting Goods -- have announced a minimum age of 21 for customers buying guns and, for Walmart, ammunition. Dick's and Kroger, through its Fred Meyer stores, will no longer sell assault rifles. Walmart took that step in 2015.
That could impact some sales. But availability remains widespread through other outdoor outlets, gun specialist stores and gun show and online sellers. The 160 outlets of Bass Pro Shops and its subsidiary Cabela's will continue to sell assault rifles based on federal and state age limits.
Large magazines
Large magazines for bullet cartridges also play a significant role in mass shootings. The standard magazine for an AR-15 assault rifle holds 30 rounds. Larger ones are readily available. Eight states and the District of Columbia home to the capital Washington have restricted or banned them. In the wake of the Florida shooting, there appears to be little momentum for the federal government to take action.
(Except for the headline, this story has not been edited by NDTV staff and is published from a syndicated feed.)