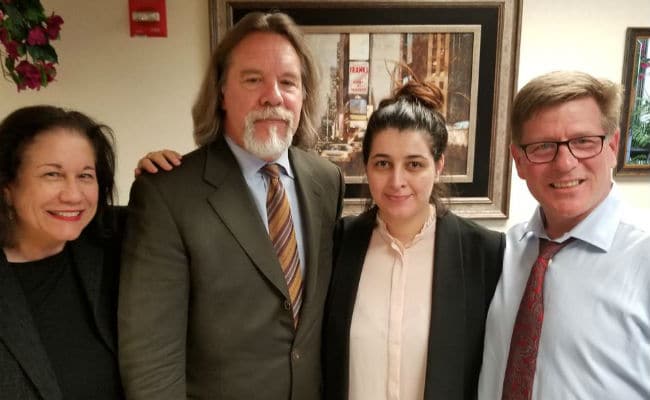 Orlando:
The widow of the Pulse nightclub gunman walked free on Friday after a jury cleared her of charges related to the 2016 massacre that killed 49 people in Orlando, Florida.
Noor Salman, 31, could have faced up to life in prison had she been convicted of federal charges of obstruction of justice and aiding her husband, Omar Mateen, in providing support to the ISIS terrorist group.
Instead, the U.S. District Court jury acquitted Salman after roughly 12 hours of deliberation that began on Wednesday. Hours later, she walked out of Orange County jail, her head bowed as she held hands with defense lawyer Fritz Scheller.
"We knew from day one she was innocent," Salman's aunt, Susan Adieh, told reporters just after the verdict.Salman was home with the couple's then 3-year-old son at the time of the massacre on June 12, 2016. Mateen died in an exchange of gunfire with police at Pulse, a gay nightspot.
The acquittal was an emotional blow for the survivors and families of those killed. The attack stunned and dismayed lesbian, gay, bisexual and transgender people and Latinos who frequented Pulse.
At the time, it was the deadliest mass shooting in modern U.S. history. It has since been surpassed by the Las Vegas attack in which a shooter opened fire on an outdoor concert from his hotel room last year, killing 58 people.
"We're very sorry for the family members and friends of the 49 victims of the Pulse nightclub shooting, and also the survivors of that horrible attack," said Susan Clary, Noor's family spokeswoman.
A group of victims' relatives and friends, accompanied by Pulse owner Barbara Poma, left the courthouse without responding to reporters' questions.
"Those of us directly affected by this tragedy must find peace in our hearts and remember that he was the one who pulled the trigger that night," Poma said in a statement.
A group of survivors, friends and family planned to meet at the Pulse nightclub about 2 miles (3 km) from the courthouse.
"She may not be guilty, but she isn't innocent either," said Luis Morales, a Pulse regular who was not there during the attack. "She knew what he was doing."
When U.S. District Judge Paul Byron announced the verdict, Salman broke down in tears and hugged her defense lawyers, according to reporters inside the courtroom. Her relatives gasped while families of the victims sat silently, showing little emotion.
Mateen, 29, opened fire shortly after 2 a.m. during Latin night, shooting patrons on the dance floor and spraying bullets at others hiding in bathroom stalls. He then held hostages during a standoff with police, claiming allegiance to a leader of ISIS before he was shot dead.
Prosecutors said Salman cased possible attack sites with her husband and did nothing to stop his plans. They claimed she initially told investigators her husband acted without her knowledge but later said she knew he was watching ISIS videos, had purchased an assault rifle, and examined three possible attack locations.
However, the Federal Bureau of Investigation did not record the interrogation and the defense said she was coerced into making statements.
The jury appeared to believe the defense portrayal of Salman as a battered spouse kept in the dark, said David Weinstein, a former federal prosecutor and now a partner at Coral Gables, Florida-based Hinshaw & Culbertson.
"The lack of a videotaped confession had to have had an impact on the jury's acceptance of her confession. ... It is clear they believed it was coerced," Weinstein said in a statement.
(Reporting by Joey Roulette in Orlando; Writing by Daniel Trotta; editing by David Gregorio and Jonathan Oatis)(Except for the headline, this story has not been edited by NDTV staff and is published from a syndicated feed.)