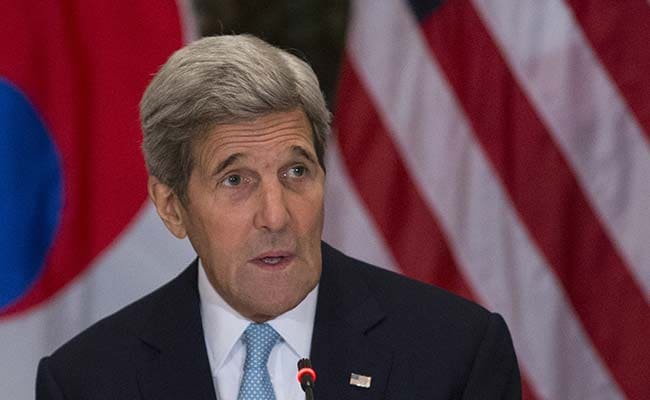 Vienna:
US Secretary of State John Kerry said on Friday he hoped to reconvene another meeting on Syria as early as October 30, after talks with his Russian, Turkish and Saudi Arabian counterparts.
"What we agreed to do today is to consult with all parties and aim to reconvene, hopefully as early as next Friday with a broader meeting in order to explore whether there is sufficient common ground to advance a meaningful political process," he told journalists in Vienna.
Kerry had met Russian Foreign Minister Sergei Lavrov and his Turkish and Saudi Arabian counterparts to discuss ways of ending the Syrian war, which claimed more than 250,000 lives in four-and-a-half years.
Ahead of the gathering, Lavrov met with his Jordanian counterpart and announced that Russia and Jordan had agreed to "coordinate" military operations in Jordan.
Moscow has thrust itself into the heart of the conflict with its bombing campaign in support of President Bashar al-Assad, while the United States, Turkey and Saudi Arabia back rebel groups fighting Damascus.
Lavrov also called for the inclusion of key regional players like Egypt and Iran in diplomatic efforts.
"This quartet is clearly not enough," he said.
But Kerry rejected the suggestion of involving Iran.
"There will come a time perhaps where we will talk to Iran but we are not at the moment at this point of time," he said.
"If some country with whom we have differences were to participate in any kind of meeting, then it would be very quick and easy to determine whether the country is there as an obstruction or as a... participant seeking a solution."
Describing Friday's meeting as "constructive", Kerry said the talks had generated some ideas which had "the possibility of changing the dynamics".
"We all know that arriving in a solution to the crisis in Syria is difficult," he added.
Russia began an air campaign in Syria on September 30 that has shifted the dynamics in the brutal war, allowing Assad's battle-weary forces to go on the offensive and overshadowing a US-led coalition bombing the Islamic State (IS) group.
The US and it regional allies have decried Russia's strikes, insisting Moscow is not targeting Islamic State as it claims, but other groups battling the regime in Damascus, and that the Kremlin's intervention will only prolong the fighting.