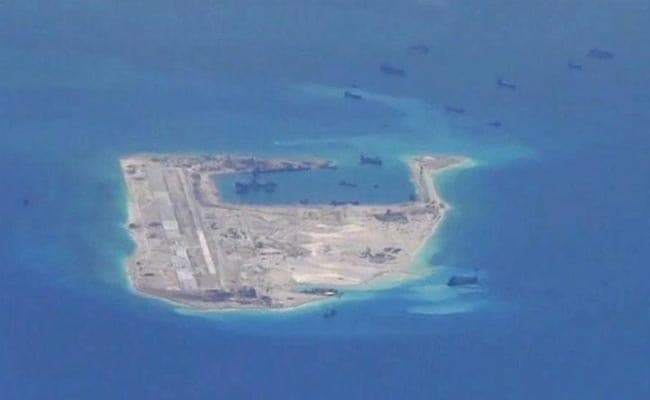 Washington:
Amid escalation of tensions between the US and China over the disputed South China Sea, top military commanders from the two countries have held a video conference during which America underlined its right of freedom of navigation and upholding rule of law in the waters.
Chairman of the Joint Chiefs of Staff General Joseph Dunford held the tele-conference with Chinese Chief of the General Staff Fang Fenghui on Thursday at the latter's request, the Pentagon said yesterday.
"General Dunford acknowledged the areas of cooperation in the bilateral relationship as well as the stability in the military-to-military relationship," Joint Staff Public Affairs Officer Captain Greg Hicks in a media statement.
"He delivered key messages regarding US commitment to uphold the rules-based international order, defend US allies and interests in the South China Sea, while affirming a desire to avoid confrontation," Mr Hicks said.
The video connection was lauded by both as a valuable channel of communication and means to exchange views, manage both cooperative and contentious issues, and avoid miscalculation.
This was the first interaction between the two leaders since General Dunford became Chairman in October, 2015, he said.
During the conference, both sides expressed the importance and urgency of cooperation in ensuring peace and stability on the Korean peninsula and commitment to denuclearisation.
"Additionally, General Dunford expressed appreciation for recent progress in military-to-military exchanges and conveyed that, although differences exist between the US and China, keeping open lines of communication was essential to managing those differences," Hicks said.
Gen Dunford proposed an effort to bolster risk reduction mechanisms within the military-to-military relationship to better manage these difficult issues, he said, adding that the two leaders agreed to use the video tele-conference connection more frequently to address key issues.
"General Dunford affirmed that if called 'someone will answer and listen'," Mr Hicks said.
A US navy ship sailed close to a disputed reef in the South China Sea on Tuesday. The guided missile destroyer, USS William P Lawrence, passed within 22 kilometres of Fiery Cross Reef, the limit of what international law regards as an island's territorial sea. The reef is now an island with an airstrip, harbour and burgeoning above-ground infrastructure.
Chinese authorities monitored and issued warnings to the US destroyer when it passed.