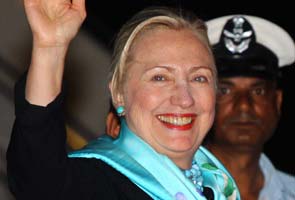 Washington:
America would be willing to negotiate with Afghanistan's Taliban leader Mullah Omar if he met conditions that have been laid out, US Secretary of State Hillary Clinton has said.
Testifying at a hearing of the House Foreign Affairs Committee on Thursday, Ms Clinton did not dismiss the prospect when asked by Republican Representative Steve Chabot, whether reconciliation talks with the Taliban and other insurgents would include talks with Omar.
"You don't make peace with your friends," she said, speaking days after concluding a week-long trip that included stops in both Afghanistan and Pakistan.
"But there first would have to be a demonstrated willingness on the Taliban's part to negotiate and to meet the laid out conditions: Insurgents must renounce violence, abandon Al Qaeda, and abide by the constitution of Afghanistan, including its protections for women and minorities," she added.
Ms Clinton last week disclosed a meeting in the summer between the United States and a representative of the Pakistan-based Haqqani insurgent network at the request of Pakistan's Inter Services Intelligence (ISI) agency. She said such meetings are part of a strategy in which "we want to fight, talk and build all at the same time."
"Part of the reason for that is to test whether these organizations have any willingness to negotiate in good faith," she said.
Clinton said that during her trip to Pakistan, she delivered a clear message to military and civilians leaders that they must act against the militant Haqqani network.
"I explained that trying to distinguish between so-called good terrorists and bad terrorists is ultimately self-defeating and dangerous," she said. "No one who targets innocent civilians of any nationality should be tolerated or protected."
US officials have accused ISI of providing support to the Al Qaeda-linked Haqqani network, which has launched attacks against US and NATO forces in Afghanistan.