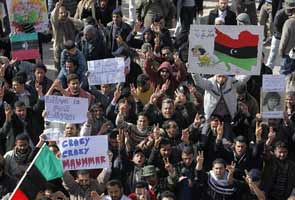 New York:
The United Nations Security Council met in an urgent session on Saturday to consider sanctions to punish Libya for violent attacks against anti-government protesters as the international community pressured leader Moammar Gaddafi to halt the crackdown on his people.
The sanctions under consideration at Saturday's session include an arms embargo against the Libyan government and a travel ban and asset freeze directed at Gaddafi, his relatives and key regime members.
UN Secretary-General Ban Ki-moon is urging council members to take immediate action to protect civilians in Libya where some estimates indicate more than 1,000 people have been killed in less than two weeks.
Many people in Tripoli and other areas where Gaddafi remains in control cannot leave their homes for fear of being shot.
The major sticking point in council deliberations was likely to be language in the proposed resolution that refers the violent crackdown in Libya to the International Criminal Court in The Hague for investigation of possible crimes against humanity.
The sanctions being considered do not include a no-fly zone over Libya and no UN-sanctioned military action was planned.
NATO has also ruled out any intervention in Libya.
Backers of the proposal circulated by France, Germany, Britain and the United States insist the language is necessary, but diplomats speaking on background said Portugal was worried that the referral could endanger Portuguese citizens still inside Libya.
France's UN Ambassador Gerard Araud said his country was still working to get consensus. "I think that all the members of the Security Council want to act and to act swiftly and strongly. So I do believe we will have a resolution today."
Earlier on Saturday, in Ankara, Turkey's Prime Minister Recep Tayyip Erdogan urged the council not to impose sanctions, warning that the Libyan people, not Gaddafi's government, would suffer most.
But German Chancellor Angela Merkel and British Prime Minister David Cameron talked on the phone Saturday and agreed the Security Council should approve harsh sanctions against the Libyan regime as soon as possible, Merkel's spokesman, Christoph Steegmans said in a statement.
Merkel and Cameron also favour European Union sanctions against Libya, he said.
Britain's UN Ambassador Mark Lyall Grant said experts were working through the text of the UN resolution.
"It's too soon to say whether we'll be in a position to adopt it today, but clearly that would be our intention. And we want to see it adopted as soon as possible."
In Washington, the White House on Friday announced sweeping new sanctions and temporarily abandoned its embassy in Tripoli as a final flight carrying American citizens left the embattled capital.
On Saturday, Britain and Canada temporarily suspended operations at their embassies in Tripoli and evacuated their diplomatic staff.
The Security Council was meeting on Saturday for the second time in two days.
On Friday, Libya's ambassador to the UN beseeched the council to help halt the deadly attacks that his once-close comrade Gaddafi has unleashed on his critics.
"I hope that within hours, not days, they can do something tangible, effective to stop what they are doing there - Gaddafi and his sons - against our people," Ambassador Mohamed Shalgham said after addressing the council.
A nonviolent revolt against Gaddafi's four-decade-old rule began February 15 amid a wave of uprisings in the Arab world and most of the country's eastern half is controlled by rebels.
Witnesses say Gaddafi's government has responded by shooting at protesters in numerous cities.
On Friday, for the second time this week, the Security Council called for "an immediate end to the violence," expressing grave concern at the deteriorating situation, particularly "reports of civilian casualties on a very large scale."
In Geneva on Friday, the UN Human Rights Council called for an investigation into possible crimes against humanity in Libya and recommended Libya's suspension from membership of the world body's top human rights body.