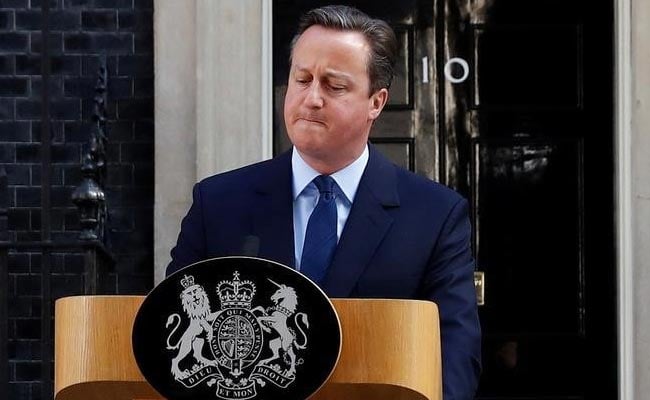 London:
Former British prime minister David Cameron was under fire on Monday from the opposition Labour party over allegations that he used his resignation honours list to reward colleagues and friends.
Cameron had resigned on June 24, the day the results of the Brexit referendum on Britain's membership of the European Union were revealed in favour of an exit from the EU.
An outgoing British premier has the right to draw up a resignation honours list although John Major was the last to do so in 1997, with Cameron's recent predecessors, Gordon Brown and Tony Blair, having decided against it.
Cameron's list, which includes honours such as knighthoods and OBEs, was leaked to the Sunday Times and indicated that he had sought to reward 'Remain' campaigners in the referendum, his Downing Street staff and donors, two of his former drivers as well as his wife Samantha's special adviser-cum-stylist.
Opposition Labour deputy leader Tom Watson denounced the leaked list as an example of the "old boys' network".
"That Mr Cameron proposes to reward his friends network on such a huge scale will not only bring the honours system into disrepute, it will undermine the reputation of (Prime Minister) Theresa May," Watson said.
"It's cronyism, pure and simple and proof the Tories will always put their own interests before those of the country," he said.
Labour party leadership challenger Owen Smith said he was disappointed Cameron "should use the system to slap his friends on the back", adding that it justified calls to overhaul the system.
Shadow home secretary Andy Burnham said the UK Honours Committee should reject the list otherwise it will "destroy any remaining shred of respect for the honours system". Downing Street said all "proper processes" would be followed.
"It is standard for an outgoing prime minister to submit a resignation list. The names on the list were at the formerly prime minister's discretion, and they will now go through all the proper processes and committees. It would set a very bad precedent for a new prime minister to interfere in the official processes," a spokesperson for May said.
Political honours requests are considered by a committee chaired by Conservative peer and former MP Lord Spicer. The majority of its members are independent.
The names then get sent back to the prime m inister, who will make any recommendations she sees fit before Queen Elizabeth II formally approves it.
Desmond Swayne, a former parliamentary private secretary to Cameron, defended the names on the list.
"The reason we have an honours list is because over a period of government, particularly a difficult government in a coalition, a prime minister has to cajole and get the support of a number of people and he builds up a debt of honour.
Frankly, an honours list is a relatively light way of paying it off," he told the BBC.
Cameron had reportedly recommended honours for 48 people in his resignation list, including knighthoods for pro-EU ministers.