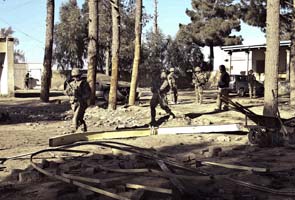 Kandahar, Afghanistan:
Suspected Taliban militants killed seven policemen in southern Afghanistan after persuading the officers to invite them into their checkpoint for dinner, officials said on Tuesday.
A total of 14 Afghan police and soldiers have died over the last two days as Taliban insurgents increase attacks as part of their annual "spring offensive" launched last month.
The two attackers fled the police checkpoint after shooting the seven men in the province of Kandahar, a hotbed of the militant campaign that targets Afghan security forces and officials as well as US-led foreign forces.
"Two men asked policemen to let them spend the night in their post. The policemen accepted and gave them food," Jawed Faisal, spokesman for the Kandahar provincial governor, told AFP.
"After dinner, the men grabbed the guns of the policemen and shot dead seven of them and wounded one and fled."
Ghorzang Afridi, a Kandahar police spokesman, said that the men escaped in a police jeep with several stolen weapons.
"These men used to be police themselves but had abandoned their jobs, and at the post they said they wanted to join the police again," he said.
The Taliban claimed responsibility for the attack.
On Monday night, five Afghan soldiers were killed in the northern province of Badakhshan in a militant assault, the ministry of defence said, while two other soldiers were killed in an explosion in Kandahar on Tuesday.
The national police and army are taking over the fight against the insurgents ahead of the withdrawal of 100,000 NATO combat troops by the end of next year, but concerns have been raised over their ability to impose security.
Casualties among Afghan security forces have risen sharply in recent years as international coalition troops have begun to pull back and local personnel have taken over front-line duties.