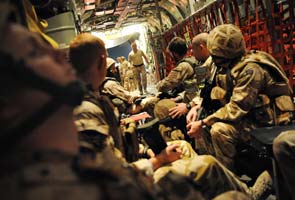 London:
A British soldier has been fined and an officer demoted after admitting abusing civilians in Afghanistan.
A 22-year-old serviceman who has since left the army admitted two charges of breaching service discipline during a 2011-12 tour. In one incident he pulled the hand of an Afghan child toward his crotch while saying "touch my special place." In another he verbally abused an Afghan boy.
A judge accepted there was no sexual motive, and the soldier was cleared of more serious charges.
A 23-year-old officer, photographed next to an Afghan man carrying a racist sign, admitted a racially aggravated offense and had his rank reduced.
Neither soldier was identified for security reasons.
Britain's Press Association news agency reported that the pair pleaded guilty Tuesday at a court- martial in Sennelager, Germany.