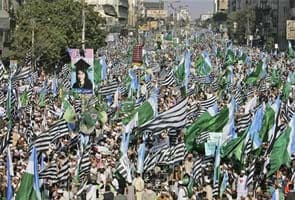 Karachi:
Shouting anti-government slogans, thousands of people today marched here in Pakistan's financial capital to oppose any amendments in the controversial blasphemy laws and praised the man charged with killing Punjab Governor Salmaan Taseer who dubbed it as "black law".
Outlawed Jamaat-ud-Dawah chief Hafiz Saeed appeared in the rally, attended by Jamiat Ulemae-Pakistan chief Maulana Fazal-ur-Rehman and Jamaat-e-Islami chief Syed Munawwar Hasan.
The demonstrators centered around the M A Jinnah Road and the Mausoleum of Quaid-e-Azam in Saddar area here with people converging in the area on the call of the splinter of conservative religio-political parties who oppose any changes to the laws that make insulting Islam a capital offense.
Wearing green headbands and holding flags with the Quranic verses inscribed on them, hundreds of youngsters, some of them wielding sticks, shouted slogans against the Pakistani government and the United States.
Some even shouted slogans in favour of arrested police commando Mumtaz Hussain Qadri who shot dead Taseer last week.
"Mumtaz Qadri is not a murderer, he is a hero," said one banner in Urdu. "We are ready to sacrifice our lives for the dignity of the Prophet Mohammad," read another.
Maulana Rehman said Governor Taseer "was responsible for his own murder" because he had criticised the law and warned the government against making amendments in the law.
"We will organise protest rallies from next week in every mohalla and city, the blasphemy law issue is not just the issue of Pakistani Muslims but of the entire Islamic Ummah," Rehman told the gathering.
He said that when no effort had been made to amend other laws like the ones dealing with corruption or the civil death sentence then why was an issue being made of the blasphemy law.
"This is the conspiracy of people who want to divide the Islamic world and our nation," he said.
JeI chief Hasan alleged that attempts were being made to amend the blasphemy law at the behest of Western forces.
Senior police officer Irshad Khan put down the number of participants in the rally between 30,000 to 40,000.
"The participants came from all parts of the city but there were no untoward incidents or any violence as the rally was held peacefully and no one disturbed the nearby businesses or transport on the road," he said.
Police had blocked all entrances leading to the rally point for public and private transport while cinema houses put black cloths on the huge billboards outside their halls.
Taseer was killed in Islamabad by his guard who said he felt insulted by the deceased Governor's remarks about the law under which a Christian mother of five was sentenced to death for using disparaging remarks against the Prophet.