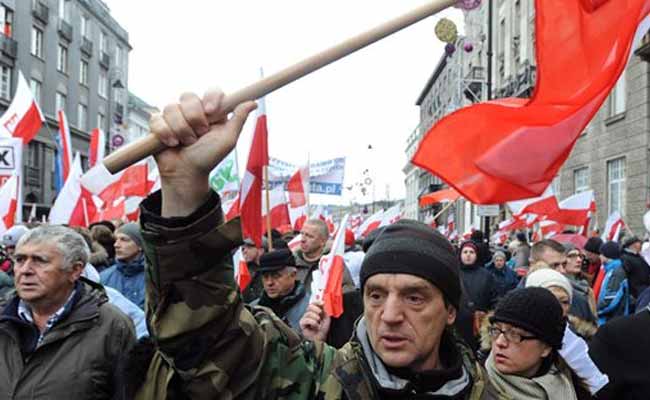 Warsaw:
Thousands of backers of Poland's ruling conservative party marched in Warsaw today with the party leader to show their support for its policies amid a growing political conflict.
The march, led by Law and Justice party head Jaroslaw Kaczynski, came a day after tens of thousands of government opponents demonstrated in Warsaw and elsewhere, saying the ruling party and its ally, President Andrzej Duda, are threatening democracy.
The ruling party and the opposition are locked in a conflict over the appointment of new judges to the 15-member Constitutional Tribunal, which has the power to block government legislation.
Law and Justice has taken steps to place five judges on the court and secure itself a say on key laws, but the implementation of the steps is meeting legislative obstacles, also on the part of the court itself. Law experts say there is no clear solution to the unprecedented deadlock.
"We want a good tribunal, one that will really protect the constitution, not the one like we have today," Kaczynski said.
Kaczynski said during the march that Law and Justice, in power since last month, is aiming for a wide reform of Poland, but the opposition is preventing that.
"We must reorganize Poland and it must be a huge reorganization," Kaczynski said. "But we are denied that right today, even though we won the election."
Police estimated that around 35,000 people took part in the march in rainy weather, with some of them coming from other cities.