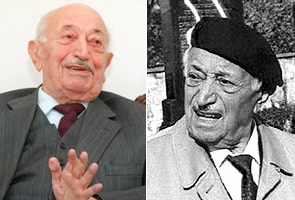 Jerusalem:
Simon Wiesenthal, a Holocaust survivor who gained worldwide fame for decades as a one-man Nazi-hunting operation, was in fact frequently on the payroll of the Mossad, Israel's spy agency, a new biography asserts.
The assertion, based on numerous documents and interviews with three people said to be Mr. Wiesenthal's Mossad handlers, not only punctures a widely held belief about how he operated; it also suggests a need to re-evaluate the standard view that the Israeli government took no interest in tracking down Nazis until the 1960 capture in Argentina of Adolf Eichmann, and little thereafter.
Mr. Wiesenthal died in 2005 at the age of 96 in his Vienna home.
"This requires us to adjust in some small way our view of history," said Tom Segev, the author of the new book, "Simon Wiesenthal: The Life and Legends," which is being published by Doubleday this week in the United States and simultaneously in six other countries.
Mr. Segev, who is Israeli and a columnist for the newspaper Haaretz here, is the author of half a dozen other books, mostly about Israeli history. In a telephone interview, he said he had been given unfettered access to Mr. Wiesenthal's papers -- some 300,000 of them, previously closed to the public -- by Mr. Wiesenthal's daughter, Paulinka Kreisberg.
While reading through Mr. Wiesenthal's correspondence, Mr. Segev came across names of people he did not recognize and discovered that they were Mossad agents and handlers. He interviewed three of them and named two in the book.
Mr. Segev said that Mr. Wiesenthal was first employed by the political department of the Israeli Foreign Ministry, a forerunner to the Mossad, and then by the agency itself. It financed his first office in Vienna in 1960, paid him a monthly salary and provided him with an Israeli passport, the biography says. Mr. Wiesenthal's code name was Theocrat.
His main task was to help locate Nazi criminals, including Eichmann, one of the architects of the Final Solution, and especially to watch out for neo-Nazis and provide information on the activities of former Nazis in Arab countries, the book says.
It also says that Mr. Wiesenthal was part of a largely unknown earlier attempt to trap Eichmann in Austria in the last days of 1948. According to the book, an Israeli agent who was helping Mr. Wiesenthal probably caused the operation to fail when he regaled fellow New Year's drinkers in local bars with stories of Israel's war of independence. Word spread that an Israeli was present and Eichmann's planned visit to his wife and child was abruptly called off, the book says.
The operation was started by Asher Ben Natan, later Israel's first ambassador to Germany, who spoke about it with Mr. Segev. The operational report, newly declassified, is also cited. Mr. Segev said he passed his manuscript through the Israeli military censor, which is required of any work published here on security-related issues.
Mr. Wiesenthal's role in the 1960 capture of Eichmann has been a matter of dispute. Isser Harel, the former Mossad head, now dead, claimed that the Nazi hunter deserved no credit.
But the book says that Mr. Wiesenthal, financed by the Israeli Embassy in Vienna, told the Mossad in 1953 that Eichmann was hiding in Argentina, leading ultimately to his capture by agency operatives. Eichmann's televised trial in Israel was a milestone in modern Holocaust awareness. He was found guilty and hanged by Israel in 1962.
Mr. Wiesenthal, a complex and often controversial figure, opposed the execution, Mr. Segev shows by examining previously unknown correspondence. It was not moral objection to the death penalty but the belief that Eichmann had not yet told everything he knew and that his future testimony could be useful.
The biography provides new details on Mr. Wiesenthal's often strained relations -- ultimately mended -- with Rabbi Marvin Hier, the founder and dean of the Simon Wiesenthal Center, which is based in Los Angeles. The disputes, recorded in numerous letters from Mr. Wiesenthal, were mostly petty, regarding accusations that the center failed to inform or consult with him.
The book also shows that Mr. Wiesenthal came to the quiet and consistent aid of Kurt Waldheim, the former secretary general of the United Nations and president of Austria, when he was being accused by Jewish groups of having lied about his service in the German Army. The harshest suspicions of war crimes against Mr. Waldheim were never proved and Mr. Wiesenthal's role was largely as a behind-the-scenes consultant to his fellow Austrian.