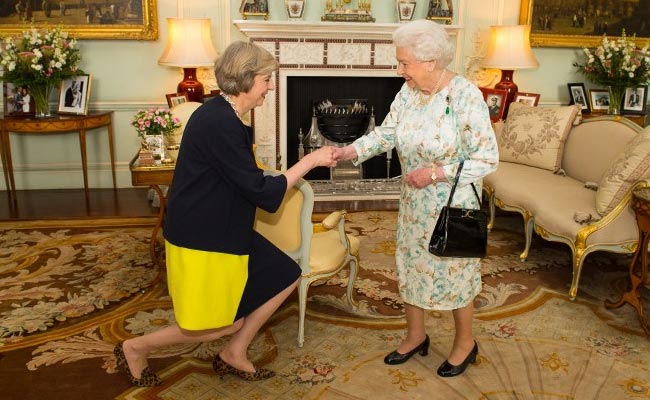 Highlights
Theresa May is the second woman Prime Minister of the UK
She became a clear choice for PM after Andrea Leadsom withdrew from race
In politics since 1997, May has been the longest-serving home secretary
London:
Theresa May replaced David Cameron as Britain's prime minister on Wednesday, assuming responsibility for the monumental task of negotiating a complex divorce from the European Union.
Cameron stepped down after Britons rejected his entreaties and voted to leave the EU in a referendum last month, severely undermining European efforts to forge greater unity and creating economic uncertainty across the 28-nation bloc.
May, 59 assumed office after an audience with Queen Elizabeth. An official photograph showed her curtseying and shaking hands with the smiling monarch, for whom she is the 13th prime minister in a line that started with Winston Churchill.
She is also Britain's second female head of government after Margaret Thatcher.
She must try to limit the damage to British trade and investment as she renegotiates the country's ties with its 27 EU partners. She will also attempt to unite a divided ruling Conservative party and a fractured nation in which many, on the evidence of the vote, feel angry with the political elite and left behind by the forces of globalisation.
EU leaders, keen to move forward after the shock of 'Brexit', want May to launch formal divorce proceedings as soon as possible to help resolve the uncertainty.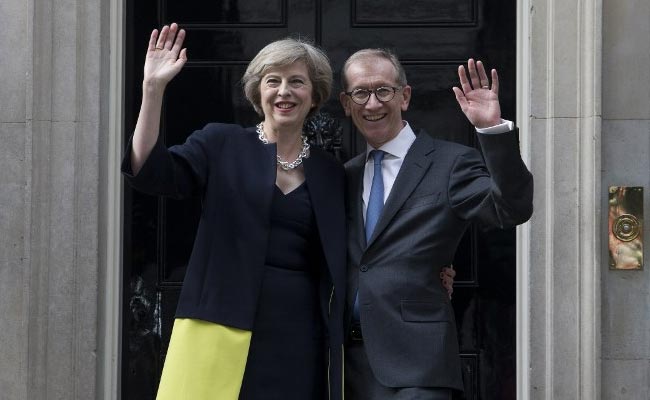 But she has said the process should not be launched before the end of year, to give time for Britain to draw up its negotiating strategy.
Although she favoured Britain remaining in Europe, May has repeatedly declared that "Brexit means Brexit" and that there can be no attempt to reverse the referendum outcome.
The shock vote partly reflected discontent with EU rules on freedom of movement that have contributed to record-high immigration - an issue on which May, as interior minister for the past six years, is politically vulnerable.
But EU leaders have made clear that free movement is a fundamental principle that goes hand-in-hand with access to the bloc's tariff-free single market, a stance that will hugely complicate May's task in hammering out new terms of trade.
"My advice to my successor, who is a brilliant negotiator, is that we should try to be as close to the European Union as we can be for the benefits of trade, cooperation and of security," Cameron told parliament in his last appearance before resigning.
Appearing later in Downing Street with his wife Samantha and their three children, he delivered his parting remarks to the nation after six years dominated by the Europe question and the aftermath of the global financial crisis.
"It's not been an easy journey and of course we've not got every decision right," he said, "but I do believe that today our country is much stronger."
In parliament, Cameron took the opportunity to trumpet his government's achievements in generating one of the fastest growth rates among western economies, chopping the budget deficit, creating 2.5 million jobs and legalising gay marriage.
Yet his legacy will be overshadowed by his failed referendum gamble, which he had hoped would keep Britain at the heart of a reformed EU.
'Our Angela Merkel'
May is seen by her supporters as a safe pair of hands to steer the country through the disruptive Brexit process. Colleagues describe her as cautious, unflappable and intensely private.
"I think around the cabinet table yesterday the feeling was that we have our Angela Merkel," said Jeremy Hunt, health secretary in Cameron's team which met for the last time on Tuesday.
"We have an incredibly tough, shrewd, determined and principled person to lead those negotiations for Britain," Hunt told Sky News television.
German Chancellor Merkel will be May's most important counterpart on the continent as the process unfolds. Both women are renowned for their firmness, pragmatism and discipline.
The new British leader is expected to immediately start putting together a new cabinet, a complex political balancing act in which she will try to satisfy opposing camps in her party.
She has said she plans to set up a new government department to lead the process of quitting the EU which would be headed by someone who had campaigned on the Leave side.
Financial markets, which had been extremely volatile since the referendum, reacted positively to news on Monday that May would become prime minister earlier than expected.
Stock markets traded within sight of their highest levels of the year as the prospect of stimulative economic policy across the developed world eased immediate concerns over the impact of the Brexit vote.
Economists predicted in a Reuters poll that the Bank of England would halve its main interest rate to 0.25 percent on Thursday in a pre-emptive strike to try to ward off a recession and reassure markets.
© Thomson Reuters 2016