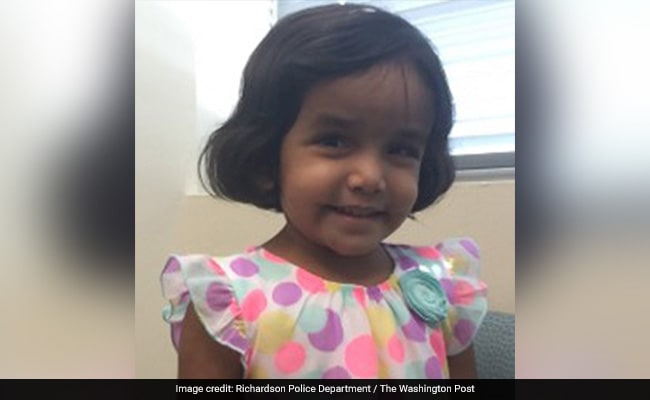 A 3-year-old from Texas has been missing for three days since her father sent her out alone to an alley at 3 a.m. -- her punishment, police say he told officers, for not drinking her milk.
Sherin Mathews, a special-needs toddler last seen early Saturday morning in her family's back yard in Richardson, a northern Dallas suburb, is thought to be in grave and immediate danger. Her father, Wesley Mathews, was arrested and charged Saturday evening with abandoning or endangering the girl. He was released Sunday night on a $250,000 bond.
Mathews told police detectives that he told Sherin to go stand by a tree near the family's house in the 900 block of Sunningdale at 3 a.m. Saturday because she wouldn't drink her milk, according to his arrest affidavit. The tree was behind the fence, about 100 feet south of the house and across an alley.
Mathews checked on Sherin about 3:15 a.m. and she was gone, according to the affidavit. Police said they weren't alerted to her disappearance until several hours later, about 8 a.m. Mathews told police he thought she'd come back on her own so he did a load of laundry while he waited, hoping he could locate her once the sun rose.
Mathews and his wife, Sini, reportedly adopted Sherin about two years ago from an orphanage in India, said Sgt. Kevin Perlich, a spokesman for the Richardson Police Department. Mathews told police that Sherin was malnourished and had to be on a special diet to gain weight. She had to be fed whenever she was awake, Perlich said, and wasn't cooperating when her father tried to feed her.
"So that was the frustration [Mathews] was experiencing that night," Perlich said. "But of course we're working to verify all of that."
It's a narrative that has the community buzzing with questions. In Dallas-area coffee shops, in nearby workplaces and on social media, people mull over the details of Sherin's disappearance -- such as why Mathews waited so long to call the police, or why there are so few clues as to where she might have gone.
"It's just a very sad thing, and there's still so much question. A lot of the story doesn't make sense," said Bob Morse, 66, who lives a few houses away from Sherin's parents.
He happened to be awake and outside at 4 a.m. Saturday, less than an hour after she reportedly disappeared, lighting his grill so that he could cook a brisket later in the day.
"At 4 a.m. in the morning, it was quiet. If a child four houses away cried out, I would hear it," Morse said. "If a car drove by, I would know."
The quiet neighborhood is home to mostly South Asian families, neighbors say. Most houses have garages behind their homes, so families often enter from the back. But rarely does anyone walk around or spend time behind the homes, near the area where Sherin was reportedly sent to stand, Morse said.
But plenty of people are spending time in the neighborhood since Sherin's disappearance, Morse said. While speaking to a contractor in his front yard recently, he saw 10 cars drive down the street in five minutes -- a rare occurrence.
"People wanna know, somebody's gotta get the story out," he said. "But they're not getting much story, that's for sure."
Sherin is described as about 3 feet tall and 22 pounds. She has developmental issues and limited verbal communication skills, unlike a typical 3-year-old, Richardson police said. She was last seen wearing a pink top, black pajama bottoms and pink flip-flops.
Because of the lack of information and tips, officials discontinued the Amber Alert they had issued for Sherin after her disappearance. Police said they need a specific vehicle or a suspect to continue the alert. The alert could be reissued if authorities develop new leads, he said.
Meanwhile, police are searching with canine experts and helicopters. Neighbors and volunteers are canvassing door-to-door, posting fliers and conducting their own search parties.
Neighbors are particularly curious about a detail Mathews gave to police in his arrest affidavit -- that he knew coyotes had been seen in the alley. But investigators and volunteers agree that nothing indicates a coyote dragged the girl away.
"There's definitely some holes in [Mathews'] story," said Shanna Poteet, who helped lead a search party over the weekend and has volunteered previously on local missing persons and runaway cases. She doesn't know Mathews. "Coyotes don't attack people. I've come in contact with a coyote, and they don't really bother you."
Neighbors say coyote sightings are common in the neighborhood. But many say that if they spotted a coyote on their porch or in their back yard, it would disappear almost instantly upon being noticed.
"I talked to police three times [about coyotes] this weekend," said Morse, Mathews' neighbor. "A lot of news reports, a lot of people here are talking about coyotes. But there would have been blood, and there was none of that. There was no pickup of scent."
On Monday, Child Protective Services took custody of Sherin's 4-year-old sister and put her into foster care, said Marissa Gonzales, a spokeswoman for the agency. She said the agency had contacted the family in the past but could not elaborate. Neither child had been in foster care before Sherin's disappearance.
Sherin's parents are no longer speaking with police and have retained attorneys, Perlich said. Sherin's mother was asleep when Mathews told Sherin to go stand outside and was unaware he'd given those instructions to the girl, Perlich said.
Members of the Emmanuel Bible Chapel, the church Mathews and his family attend, have helped search several areas near the family's home since Saturday. One member, Jose Cherian, told NBC 5 Dallas-Fort Worth that Mathews and his wife are good parents.
"The parents are also loving, they loved Sherin very much," he said. "They take care of her very much."
(Except for the headline, this story has not been edited by NDTV staff and is published from a syndicated feed.)