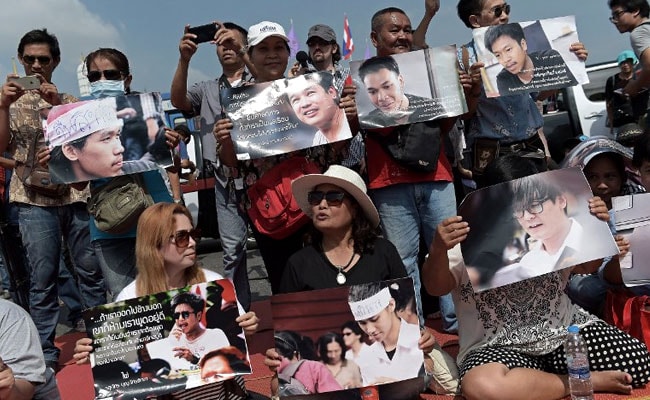 Bangkok:
14 Thai students detained for an anti-coup protest were released from jail today but still face sedition charges, a lawyer said, in a case that has heightened concerns over civil liberties in the junta-ruled kingdom.
The activists university students in their 20s, including one woman have become the public face of protest in Thailand, where few have dared to challenge the ruling military's web of restrictions including a ban on political gatherings since last May's coup.
All 14 were released from custody at dawn after the military court, where their case is being handled, Tuesday denied a police request for further detention.
They had been in custody for nearly two weeks following a peaceful rally against the junta at Bangkok's Democracy Monument.
"They were all released this morning," Krisadang Nutcharut, a lawyer representing some of the students, told AFP. "We will later discuss with them how to fight their cases."
The students have each been charged with sedition, which carries up to seven years in jail, and for breaching the junta order against public gatherings over protests in May to mark one year since the coup.
Photographs on social media showed the 13 male students, all with shaved heads, standing in a line with their arms around each others' shoulders.
The female student was kept in custody in a separate detention centre for women, but was also released today.
Thailand's junta has come under increasing pressure to drop the case against the students, with rights groups describing the sedition charges as an escalation in repression under the regime.
Last week the European Union and the United Nations Human Rights Office also called on Thai authorities to free the activists from custody and drop all charges.
Thai premier Prayut Chan-O-Cha, a former army chief who led the coup in May 2014, says the takeover was vital to restore order after months of often violent protests against the elected government of Yingluck Shinawatra.
But critics say it was the latest move by royalist elites in Bangkok, who are backed by large portions of the military, to stifle democracy in the kingdom and protect their interests.