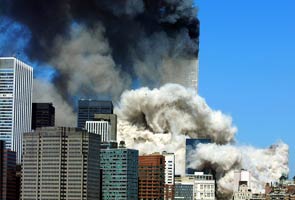 New Delhi:
The attack on the World Trade Centre on September 11, 2001, changed the manner in which the world viewed terrorism. Days after 9/11, US soldiers pounded Afghanistan and Iraq; America's internal security setup changed within months.
On the other hand, India's battle against terror has been a mixed bag. Wednesday's blast near the Delhi High Court in which 13 people were killed and over 70 injured, added to the long list of terror strikes in India.
Home Minister P Chidambaram said India doesn't have a magic bullet. "The National Investigating Agency (NIA) has to build capacity, it has to recruit officers. And NIA is building capacity. So, it's not as though I, by pressing a switch, get 500 people to the NIA overnight."
And while US hunted down Osama in Pakistan, twice in the last decade, India nearly went to war with Pakistan after terror strikes on the Parliament in 2001 and the 26/11 strikes were linked to Pakistan.
"Are the non-state actors coming from heaven? Or they are coming from a different planet? Non-state actors are located in the territory of a particular country," Finance Minister Pranab Mukherjee recently said in Parliament.
Despite the bluster, India never quite managed to fire a shot; each time it found itself unprepared and lost momentum.
Instead, it fell back upon the US to deal with Pakistan and terror groups operating from there.
Internally, India made clear its decision to try and change the security structure. Organisations like the NIA came up, however, several key changes remain incomplete largely because of turf battle and infighting within the government.
The proposed National Intelligence Grid aimed to link up crucial databases to track down terrorist remains a work in progress
The National Technical Research Organisation tasked to gather electronic intelligence is defunct and a parking house of retired bureaucrats
And most crucially, the state police organisations continue to have huge vacancies and are unable to gather intelligence or work on broad intelligence inputs
There have been some hits and many misses as far as internal security is concerned, but just how has India's cooperation with US on terror issues been? The FBI, for instance, provided crucial inputs to unravel Pakistan's involvement in 26/11; the US also helped India to unearth the Headley-Rana conspiracy behind 26/11.
But as the trial progressed, there was growing feeling within the security establishment that US wasn't forthcoming enough, despite the fact that US had intelligence and warned India in 2008 that its Kabul embassy would be attacked. And then came sudden windfall as the US-Pak relations plummeted after Osama was killed in Abbottabad deep inside Pakistan.
Ghulam Nabi Fai, a man India wanted neutralised for many years, was arrested for working with the ISI against India and recently the FBI arrested Jubair Ahemed saying he was helping the Lashkar-e-Taiba.
In all, Indo-US co-operation on counter-terrorism has several high points. But perhaps what is most crucial for India is to realise that US will not do India's dirty job beyond a point and it will have to deal with terror on its own.