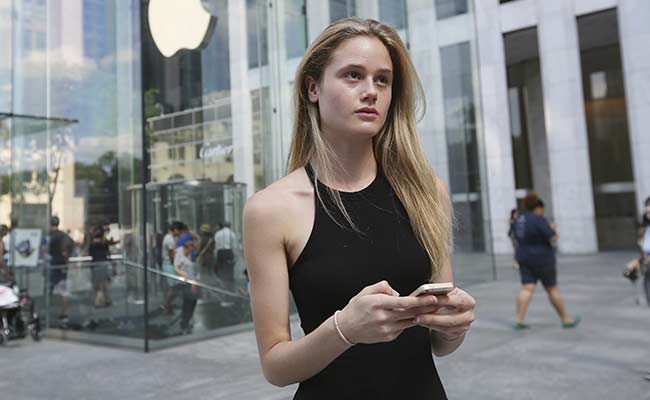 For some teenagers, wearing last season's jeans will always be unthinkable.
But a growing number consider texting on a dated smartphone even worse.
For teenage apparel retailers, that screen-obsessed teenager poses a big threat in the still-important back-to-school sales season.
Muscle shirts and strategically ripped jeans no longer provide an assured spot for retailers like Hollister and American Eagle Outfitters in the marketplace of what's cool at an American high school. The social cachet these days involves waving the latest in hand-held technology.
"Clothes aren't as important to me," said Olivia D'Amico, a 16-year-old from New York, as she shopped at Hollister with her sister and a friend. "Half the time I don't really buy any brands. I just bought a pair of fake Doc Martens because I don't really care."
She probably spends more on technology because she likes to "stay connected," she said.
"It's definitely more exciting for a lot of teenagers to have a new phone that can do lots of cool stuff than clothing," said Nicole Myers, 19, a model in New York who emerged from an Apple store Monday with a new iPhone that cost about $200. "A phone keeps you much more entertained. It's a better distraction than clothing."
Analysts and trend-spotters agree that a major shift in teenage trends, and in teenage spending, is underway. John Morris, a retail analyst at BMO Capital Markets, says that his regular focus groups with teenagers about what trends they find most appealing often stray from clothing.
"You try to get them talking about what's the next look, what they're excited about purchasing in apparel, and the conversation always circles back to the iPhone 6," he said. "You get them talking about crop tops, you get a nice little debate about high-waist going, but the conversation keeps shifting back."
The teenage apparel sector of retailing, whose sales account for about 15 percent of all apparel sales, according to the NPD Group, is in a deep slump as sales have declined over the last several quarters. Aside from the attention given to tech items like phones, apps and accessories, some longstanding retailers have been hard hit by competition from fast-fashion stores like Forever 21 and H&M, which offer up-to-the-minute trends at low prices. Online shopping has also reduced mall traffic among teenage consumers, and the popularity of Instagram whips fads around so quickly that teenagers are not chasing one enduring fashion item.
Young shoppers are the first to point out the use of phones in e-commerce.
"You can shop online for clothes on your phone," Caitlin Haywood, 15, a high school sophomore from New York, said on her way into a Hollister in downtown Manhattan. A fan of the store's "California style," she also noted that she owned many decorative coverings so that she could accessorize her phone.
That's a fashion statement itself, she suggested. "When you take pictures, people see your case," she said.
In fact, accessories like crystal-studded phone cases or neon-colored headphones are high on a teenager's shopping list.
"Having a cool phone to show you're plugged in is a huge part of people's style, a huge part of life these days," said Eva Chen, editor in chief of Lucky Magazine, adding that teenagers used smartphones to signal status in the way men used to do with ornate watches.
A bright spot for teenage retailers might be the economics of the phone market, since most teenagers do not have the money to buy the newest iPhone or Samsung Galaxy the moment it is released.
Stephanie Wissink, a managing director at Piper Jaffray, said that after several years of strong growth, the percentage of money that teenagers spend on electronics appeared to have stabilized at around 8 or 9 percent. Cellphone penetration is high and children must generally wait for their next upgrade for their next device, she said.
But technology does seem to indirectly influence other spending habits, she said. For the first time, Piper Jaffray's semiannual survey of teenagers in the spring found that they spent more money on food - just barely topping clothing - than any other category.
"There's this magnetism to restaurant environments," Wissink said. "So we talked to teens about why, and it's the free Wi-Fi."
"I'm addicted to Instagram," said Ann Borrero, a 19-year-old who attends high school in Brooklyn and has a running list of the restaurants she often chooses to get Internet access. "I just usually know, like McDonald's always have Wi-Fi, little cafes always have Wi-Fi."
Top executives at traditional retailers have felt the strain of quarter after quarter of disappointing results, and many of those companies have undergone upheaval in their top ranks.
This month, the chief executive of Aéropostale, Thomas P. Johnson, agreed to step down and be succeeded by his predecessor, Julian R. Geiger. In January, the chief executive of American Eagle, Robert L. Hanson, left the company after only two years in the position. And that same month, Abercrombie & Fitch split the role of chairman and chief executive under pressure from investors.
In addition to changes in the teenage-specific landscape, retailers across a range of categories are learning how to manage a back-to-school season that has shifted significantly in recent years. While still a crucial season for retailers, its window has become less delineated, sometimes starting a bit later and often lasting past the beginning of the school year.
"The grave mistake was to annually assume that the back-to-school shopper was going to show up like clockwork in July and buy goods in that time frame," Morris of BMO said.
Analysts say that retailers appear to have learned that lesson, and have planned their inventory accordingly, often by ordering fewer items and focusing on their margins.
"Back-to-school is important, and people want to have it be successful, but each year, it seems it's a little bit harder to do as well as you did before," said Richard Jaffe, an analyst at Stifel. "The peak becomes less of a peak."
In recent days, executives at a variety of retailers, including Target, Macy's and American Eagle, have given some encouraging signals in their quarterly earnings calls that the back-to-school season is off to a good start. But many experts are calling for a lackluster period regardless.
"Back in the day, we ate three square meals a day, and now what's trending is grazing," Chen said. "I think shopping is kind of similar. You are constantly shopping throughout the year, and in smaller ways. But I think that's something that affects teens and women - it's a larger trend, period."
© 2014, The New York Times News Service