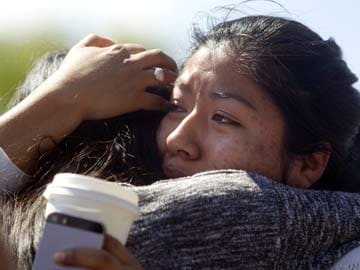 Troutdale, Oregon:
The teenage gunman who killed a classmate at an Oregon high school on Tuesday was armed with a military-style rifle and a semiautomatic pistol obtained from his home and lacked any known connection to his victim, police said on Wednesday.
Police said an autopsy of the suspect, Jared Michael Padgett, 15, confirmed that he died of a self-inflicted gunshot wound after exchanging fire with police inside Reynolds High School in Troutdale, a Portland suburb.
The shooting, which ended with Padgett's body being found in a bathroom stall of the gymnasium building, marked the third outbreak of deadly gun violence to shake a U.S. high school or college campus in less than three weeks.
Troutdale Police Chief Scott Anderson declined at a news conference to offer any explanation for what may have driven Padgett to walk into a boy's locker room at the school and shoot a fellow freshman, 14-year-old Emilio Hoffman.
"We have not established any link between the student and shooter," Anderson said. "At this time it would be inappropriate to discuss a motive."
But he credited a school gym teacher, Todd Rispler, with preventing further loss of life. Rispler was grazed by gunfire as he encountered Padgett but made his way to the school office to warn administrators of the attack and initiate a lockdown, Anderson said.
Anderson said Padgett opened fire with an AR-15-style rifle and also was carrying a semiautomatic handgun that he did not use, as well as a large knife and nine loaded ammunition magazines with a capacity for several hundred rounds.
The youth arrived at the school on Tuesday morning by school bus, carrying a guitar case and a duffel bag. When confronted in the locker room by the teacher, the boy wore a vest used for carrying ammunition and other items and a camouflage-colored athletic helmet, Anderson said.
"The shooter obtained the weapons from his family home," the chief said. "The weapons had been secured, but he defeated the security measures."
Police have not said whether the firearms were legally owned or registered by family members.
President Barack Obama expressed deep frustration on Tuesday at the inability of Washington lawmakers to tighten gun control measures in the wake of a recent wave of U.S. shootings in public places. [ID:nL2N0OR2FU]
© Thomson Reuters 2014