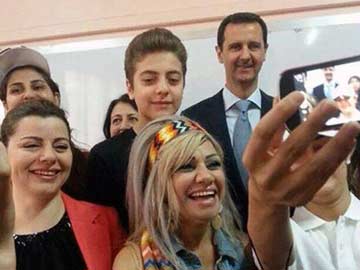 Damascus:
Confident and casual, Syrian President Bashar al-Assad voted today along with his British-born wife, Asma, for his own re-election, displaying an image that contrasts sharply with the war he is waging.
Portrayed as a criminal by the opposition, Assad is keen to show himself as a man of the people.
And he posed for a selfie along with a group of youths at the polling station where he voted. The photograph then made the rounds on Twitter and Facebook.
State television broadcast footage showing the presidential couple smiling as they arrive at a polling station in Maliki, a residential neighbourhood in downtown Damascus.
As they walk in, they greet and embrace supporters before going into a voting booth. They emerge and are met by applause as they drop their ballots into the box and dip their finger in election ink. Assad is wearing a dark blue suit, his blonde wife a business-like black skirt, white jacket and black stiletto shoes.
Today's was one of the couple's rare public appearances since the outbreak of an Arab Spring-inspired revolt in March 2011. The brutal crackdown on all dissent that ensued heavily tarnished the young, modern couple's image.
The image the couple tried to give also contrasted with the outcry in rebel areas, where opposition activists have branded the vote a "blood election" that they believe will only usher in more war.
On the streets, even though today's was staged as a multi-candidate election, posters and billboards appeared to glorify Assad alone, while some were imprinted with slogans swearing loyalty to the "eternal leader."
Syrian mobile phone company MTN sent out messages to subscribers offering free ringtones. One was a song dedicated to Assad titled 'We do not want anyone but you', the other was an ode to 'Our leader.