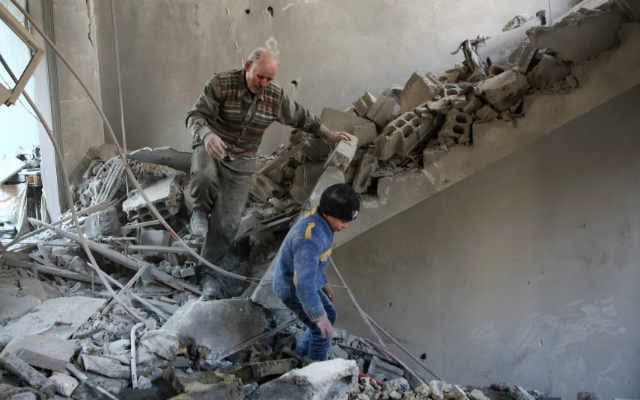 Beirut:
At least 20 civilians were killed Thursday in Syrian government air strikes on rebel-held territory in the country's north, a war monitor said.
Elsewhere three children were reported killed in artillery strikes on rebel-held Eastern Ghouta, while state news agency SANA said seven people died in apparent retaliatory shelling of nearby government-held Damascus.
The aerial bombardments in the north pounded several areas in the provinces of Aleppo and Idlib, where government troops are waging a Russian-backed assault against rebels and jihadists.
"Regime raids hit two villages in the south of Aleppo province, killing 15 civilians," said Rami Abdel Rahman, head of Syrian Observatory for Human Rights.
In the neighbouring province of Idlib, government air strikes killed five civilians in the town of Saraqeb, said the Observatory, a Britain-based war monitor.
That broad region is held by Hayat Tahrir al-Sham (HTS), which is dominated by Al-Qaeda's one-time affiliate in Syria.
Syrian government troops launched a ferocious offensive in late December to retake parts of Idlib and secure a key road leading from Aleppo south to the capital.
Regime forces have made key gains, recapturing the Abu Duhur military airport and dozens of nearby villages.
Since it erupted in 2011, Syria's conflict has morphed from a protest movement into a brutal and complex war that has left 340,000 people dead.
In an attempt to bring an end to the fighting, backers of opposing sides last year agreed to four "de-escalation" zones in the country.
Idlib makes up part of one zone. The other three are in Syria's south, the central province of Homs, and the area of Eastern Ghouta, an opposition enclave near Damascus.
The area has been besieged by government troops since 2013 and is home to around 400,000 people living a humanitarian nightmare.
(Except for the headline, this story has not been edited by NDTV staff and is published from a syndicated feed.)