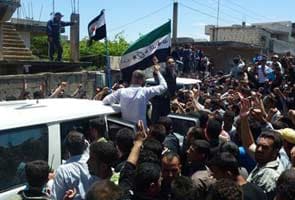 Geneva:
Syrian forces and allied "shabbiha" militia who stand accused of committing a massacre in Houla may be liable for prosecution for crimes against humanity, UN High Commissioner for Human Rights Navi Pillay said on Friday.
Ms Pillay, in a speech read out on her behalf to a special session of the United Nations Human Rights Council, said: "These acts may amount to crimes against humanity and other international crimes and may be indicative of a pattern of widespread or systematic attacks against civilian populations that have been perpetrated with impunity."
Ms Pillay, a former war crimes judge, added: "I reiterate that those who order, assist or fail to stop attacks on civilians are individually criminally liable for their actions."
© Thomson Reuters 2012