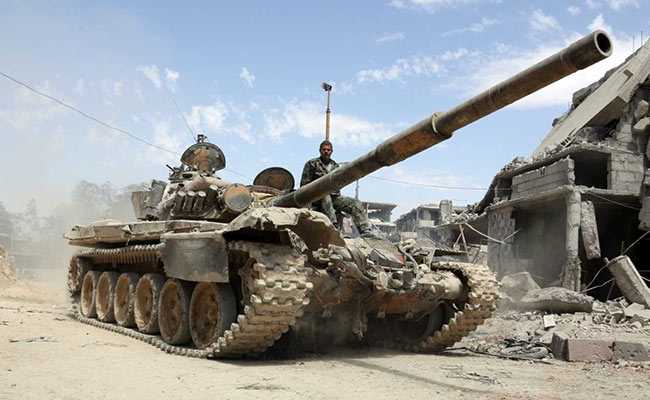 Damascus:
Syria accused Israel on Monday of carrying out deadly bombing raids on a military airbase in the country's centre, state news agency SANA reported.

"The Israeli attack on the T-4 airport was carried out with F-15 aircraft that fired several missiles from above Lebanese territory," SANA said, citing a military source.

It had reported just before dawn that "several missiles" had hit T-4, which lies in central Syria and is also known as the Tiyas air base.


A military spokeswoman for Israel declined to comment on Monday.
SANA had initially reported the strike as a "suspected US attack" but later withdrew all references to the United States.
It said the attack had left dead and wounded but did not give casualty figures.
The Syrian Observatory for Human Rights, which monitors the country's conflict, said 14 fighters had been killed, including at least three Syrian officers and Iranian forces.
Forces from regime backers Russia and Iran, as well as fighters from the Lebanese Hezbollah militia, are known to have a presence at the base, said Observatory chief Rami Abdel Rahman.
Israel has repeatedly warned it will not accept its arch-foe Tehran entrenching itself militarily in Syria and has bombed Iranian targets there.
In February, it accused Iranian forces at the T-4 base of sending a drone into Israeli territory.
After bombing Iranian units in Syria in retaliation, an Israel F-16 was shot down by Syrian anti-aircraft fire in one of the conflict's most notable escalations.
Israel then carried out what it called "large-scale" raids on Syrian air defence systems and Iranian targets, which reportedly included T-4.
The Russian army also on Monday accused Israel of carrying out deadly missile strikes on a Syrian military airbase from Lebanon, Russian media reported.
"Two F-15 planes of the Israeli army hit the airbase between 03:25 am and 03:53 am Moscow time (0025 GMT and 0053 GMT) with the help of eight missiles controlled remotely from Lebanese territory, without entering Syrian air space," the Russian defence ministry was quoted as saying by Russian news agencies.
(This story has not been edited by NDTV staff and is auto-generated from a syndicated feed.)