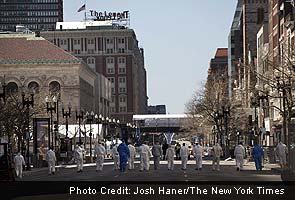 Boston:
In the first major break in the hunt for the Boston Marathon bomber, FBI personnel found security video clips Wednesday that showed a man they believe may have played a role in planting the explosives that killed three people and injured more than 170 on Monday.
The videos also showed at least a handful of others whom the authorities want to question, either because of what they appear to be doing in the video or their proximity to the blasts, according to a senior law enforcement official.
The official said the authorities were trying to boil down the number of people of interest in the videos and will then decide whether to ask the public's help in locating them.
"It's a crowd, there are a lot of different angles - it is not like some television-produced video - there's a lot that isn't clear," said the official. "But most interpretations support the notion that one man is seen dropping a bag."
The official added: "There are several videos with people in them, and we're looking to talk to more than one guy. It's still very squishy but there are a lot of interesting people" the authorities want to talk to.
As news spread of the video Wednesday afternoon, officials emphatically denied a flurry of news media reports that they had made an arrest. The FBI was still "looking for a name to put with a face in a video," one law enforcement official said, speaking on the condition of anonymity.
Those denials did not deter hundreds of office workers and reporters from gathering outside the federal courthouse here, where they anticipated that a suspect would be arraigned. A midday bomb scare caused the courthouse to be evacuated and created confusion as the crowds were moved far away from the building and it was ringed by police vehicles. By nightfall, no arrest had taken place.
At Copley Square, the crime scene, several blocks long, remained barricaded Wednesday as investigators in white hazmat suits scoured the buildings and roofs for pieces of evidence from the two explosions, which occurred at 2:50 Monday afternoon near the finish line of the marathon.
Teams of investigators, including more than 1,000 FBI agents, were tracking possible leads developed Tuesday after they had discovered remnants from the two bombs. Those remnants included parts of one or two kitchen pressure cookers that had evidently been packed with nails, ball bearings and black powder and used as explosive devices; the torn remains of a dark nylon backpack or duffel bag in which one of the bombs had been hidden; and a circuit board, wires and other parts from timing devices. Investigators hoped to track the items back to where they were sold and compile a list of names or descriptions of the buyers.
A piece of the lid of one of the pressure cookers was found on a rooftop near the blast, a law enforcement official said Wednesday - giving a sense of the tremendous force of the explosion.
The possible break in the case came as investigators scrutinized scores of videos and photographs from surveillance cameras from nearby businesses, as well as from smartphone-wielding marathon spectators and television crews that were filming the marathon when the deadly blasts went off. So far, no one has taken responsibility for them.
As the investigation went into a third day, there were signs of jitters around the nation, which was on high alert. New York City officials said there had been an increase in reports of suspicious packages. In Oklahoma City, the scene of a devastating bombing in 1995, City Hall was briefly evacuated Wednesday morning as the authorities examined a stolen rental truck that was parked outside. (There was no bomb, officials there said.)
In Washington, parts of two Senate office buildings were shut down as officials investigated reports of suspicious letters or packages, and the Secret Service said that a letter addressed to President Barack Obama contained a suspicious substance. It was intercepted at a screening facility outside the White House, and federal agents arrested a suspect Wednesday evening.
In New York City, the Police Department received 143 reports of suspicious packages between Monday afternoon, just after the Boston explosions, and midnight Tuesday. This was an increase of more than 300 percent over a similar time period last year, Raymond W. Kelly, the police commissioner, said.
And in Boston, the John Joseph Moakley U.S. Court House was evacuated in the afternoon as officials called out "code red" and bomb-sniffing dogs were sent inside.
The courthouse was swarming with scores of journalists from around the world, who had flocked there because of rumors - reported early Wednesday afternoon by several news organizations but forcefully denied by the FBI and the Boston Police Department - that an arrest had been made in the case or was imminent.
One of those evacuated, Dave Greenup, 58, who works at a restaurant inside the courthouse, reflected the anxiety caused by the bombings. "For the past couple days, I have been in a daze," he said. "All of a sudden, we get this evacuation thing. Every time we turn around now, there's something. I was really hoping they caught somebody. You want closure."
Court employees were allowed back into the courthouse at 4:15 p.m. No bomb was found there.
Boston prepared to mourn the victims at an interfaith church service Thursday morning at the Cathedral of Holy Cross. Obama and his wife, Michelle, were scheduled to attend.
The three people killed in the blasts represented a cross-section of Boston, brought together seemingly at random to watch one of the city's proud traditions, the 117th marathon. There was Lingzi Lu, in her early 20s, a graduate student at Boston University and one of the thousands of international students drawn to the area's universities. There was Martin Richard, a vivacious 8-year-old third-grader from a well-loved family in Dorchester, a tight-knit community. And there was Krystle Campbell, 29, of Arlington, Mass., a hard-working woman known for her sense of humor who had started working at restaurants as a waitress in high school and now worked as a restaurant manager.
If investigators in Boston can find a facial image of sufficient quality from the security video, it could provide a powerful lead.
The FBI has been working for several years to create a facial recognition program, and the video of a suspect or suspects could be matched against the bureau's database of mug shots of about 12 million people who have been arrested, officials said.
If there is no match, investigators can hunt for the suspects' images in the voluminous videos and photographs from the bombing site that were submitted by members of the public in response to an FBI appeal. That is still a technically difficult task, because the software is most accurate with head-on facial images and can be thrown off even by a smile, specialists said Wednesday.
Still, "it's vastly superior to just watching the video," said Al Shipp, chief executive officer of 3VR Inc., a company that sells video analytics software. "You can sort through years of video in seconds. That's the game changer."
By piecing together more images of suspects and their movements, the FBI might be able to come up with a name. Even without a name, Shipp said, investigators could program multiple cameras at airports and elsewhere with the suspects' images so that the cameras would send an alert to them if someone resembling the suspect passed by.
While investigators have focused on the images of the possible suspect, they are continuing to pursue a broad range of other avenues, one law enforcement official said.
"We try not to get tunnel vision about it," the official said, adding, "we're working a lot of other possibilities."
The process, the official said, can be a painstaking one. Once an image like that of the potential suspect is identified, investigators and analysts will seek to track the person in the image, both back in time and forward, seeking other images - photographs and videos - from other sources, looking for different angles and different lighting scenarios.
Using the universe of video and still images being compiled for the investigation, they will also try to see where the person came from before he or she was captured in the initial image, and where he or she went, the official said.
Dan L. Vogel, a retired FBI agent and former profiler for the bureau, said that if a suspect is not identified quickly, investigators might put the security video images of the suspect or suspects out to the public in the hope that someone would recognize them. "The only reason not to put it out is they'll get so many calls that it will take a huge amount of time away from the investigation," Vogel said.
Appealing to the public would most likely put more pressure on the suspect. "He'd get nervous and turn himself in, or he could go to ground," said Philip Mudd, a former senior CIA and FBI official. "But having several million people looking for him outweighs any downside."
Simultaneously, said Chris Westphal, an author on investigative software and consultant to law enforcement and intelligence agencies, the FBI is likely compiling data from license-plate readers, which are now often located on police cars as well as tow trucks and even finance company vehicles. On the theory that the bomber would have surveyed the marathon finish line repeatedly in advance of the race, investigators might collect license tag numbers for suspicious vehicles that cruised the area in the days before the race and obtain driver's license photos for the owners.
"Right now it's got to be a shotgun approach," casting a wide net and following numerous possible chains of evidence, said Westphal, of Visual Analytics Inc. in Frederick, Md. "It's an overwhelming task."
In the meantime, amateur crime-solvers emerged on the online community Reddit, where a "findbostonbombers" message board popped up early Wednesday. Hundreds of Reddit users combed through photographs and videos of Boylston Street, looking for suspicious people and packages while marking other people as innocent.
Some of the users tried to cross-reference an FBI photo of a shredded backpack found at the scene of the bombings with backpack-carrying people in the crowd around the finish line of the marathon. Other users singled out people who appeared to flee from the scene after the explosions.
Before long the most popular message was titled "Does anyone remember Richard Jewell?," a reference to the security guard at the 1996 Summer Olympics in Atlanta who was wrongly cast as a suspect after a bomb blast there.
© 2013, The New York Times News Service