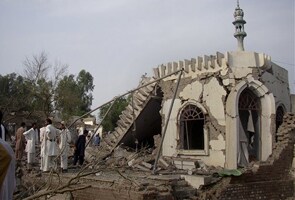 Peshawar:
A suicide bomber rammed his explosive-laden vehicle into a police station in northwest Pakistan on Monday, killing at least 20 people, including 11 policemen and four schoolchildren.
The attacker targeted the main police station in Lakki Marwat, a key city in Khyber Pakhtunkhwa province, shattering the premises with the blast leaving 40 others wounded.
The police station, a nearby mosque and a government office collapsed while portions of two other government buildings were damaged.
The bomber struck at 7 am, when most of the 45 policemen at the station were asleep following 'sehri', the pre-dawn meal partaken ahead of a day-long fast during the Islamic holy month of Ramzan.
A school bus was passing the area when the blast occurred. A live electric wire fell on the vehicle, killing four children and injuring several others.
At least 10 policemen were among the injured. Several of the injured were in a critical condition, officials in local hospitals said.
Local residents joined rescue operations and rushed the injured to hospital in private vehicles.
The bomber targeted the police station from the rear as its front side and entrance were barricaded with cement blocks, officials said.
Experts of the bomb disposal squad said over 40 kg of explosives were used in the attack.
Officials said they feared the death toll could rise as rescuers were still clearing the rubble of collapsed buildings.
Police cordoned off the area and launched a search operation. No group claimed responsibility for the attack.
Lakki Marwat has witnessed several deadly terrorist attacks that targeted members of anti-Taliban militias and policemen.
In January, a Taliban bomber blew himself up at a football ground on the outskirts of city and had killed nearly 100 people. The people were targeted as they had resisted the Taliban's efforts to infiltrate the area.