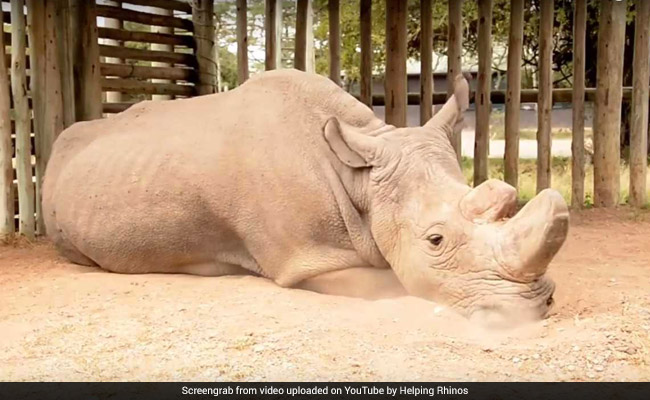 New Delhi:
Sudan, world's last surviving male white rhino, died on 19 March at Kenya's Ol Pejeta conservancy. 45-year-old Sudan was being treated for age-related complications that led to degenerative changes in muscles and bones combined with extensive skin wounds.
His condition worsened significantly in the last 24 hours that he lived, running up to 19 March, which made it impossible for him to stand up.
Finally, the veterinary team from the Dvur Kralove Zoo, Ol Pejeta and Kenya Wildlife Service took the decision to euthanize him.
Richard Vigne, Ol Pejeta's CEO told NDTV, "He was a great ambassador for his species and will be remembered for the work he did to raise awareness globally of the plight facing not only rhinos, but also thousands of other species facing extinction as a result of unsustainable human activity. One day, his demise will hopefully be seen as a seminal moment for conservationists worldwide."
In May 2017, dating app Tinder and the conservancy partnered together to raise money for his breeding campaign.
Sudan's bio on Tinder read, "I don't mean to be too forward but the fate of my species literally depends on me. I perform well under pressure. 6 ft and 5,000 lbs if it matters."
In 2009, the last four fertile northern white rhinos - two males and two females - were moved to Ol Pejeta. Experts hoped the climate and rich grasslands of the conservancy that are similar to the native habitat would provide favourable breeding conditions.
With options running out, scientists are attempting to develop artificial reproductive techniques, or ARTs, including In Vitro fertilisation to rescue this sub-species.
Ol Pejeta Conservancy and Dvur Kralove Zoo are now partnering with IZW Berlin, Avantea Cremona and the Kenya Wildlife Service to try and conduct the first-ever procedure to safely remove egg cells from remaining females, fertilize them with semen previously collected from northern white males and insert the resulting embryos into female southern white rhinos acting as surrogates.
This has never been done before in rhinos and does not come without risks.
Sudan's genetic material, which was collected, provides hope for future attempts at reproduction of northern white rhinos through advanced cellular technologies.
Sudan had previously lived at the Dver Kralove Zoo in the Czech Republic before being transported to Ol Pejeta Conservancy, about 250 km (155 miles) north of Nairobi, where he lived the final years of his life with his daughter 27-year-old Najin and granddaughter 17-year-old Fatu.